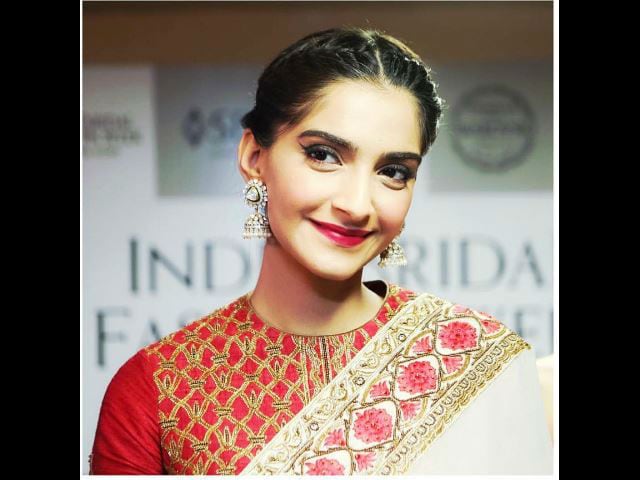 Highlights
Sonam Kapoor was recently in Delhi to launch a wedding store
The actress will soon be back to shoot her next Veerey Di Wedding
The film also stars Kareena Kapoor, Swara Bhaskar and Shikha Talsania
New Delhi:
Actress Sonam Kapoor has some adventurous ideas up her sleeve for her wedding.
"You know it wouldn't be a bad idea to just elope and get married, it's less stressful but I know people who love celebrating but actors we dress up so much after a certain point you just want to be easy and have fun," laughed Sonam as she made her second visit to the capital in less than four days to launch a wedding store.
"I don't know what it is about me and Delhi really," said Sonam, 31, adding, "even my next
Veerey Di Wedding
is being shot here."
But if you think it's just work or
has Sonam met her dream man
, Sonam is not telling. "Come on, you all know I don't ever discuss my personal life," Sonam said.
Talking about weddings, Sonam said, "I have not thought about my dream outfit, but yes Anamika Khanna would certainly be one of my designers."
Her pet fashion peeves being Tiara's worn by people and why do brides lighten their skins.
On the work front the actress is yet to sign a film other than
Veerey Di wedding
, post
Neerja
. We were curious to know why?
"I am looking for something with gravitas. My films
Ranjhaana
,
Khoobsurat
and
Neerja
have had some impact. I just don't want to do something; I don't want to go down a notch. In
Veerey Di Wedding
, four women coming together and making a film... Four mainstream actresses... it is not happened before. It tells a lot about our industry too. It's a never been seen before idea."
"
Veerey Di Wedding
is not
Aisha
or
Delhi 6
. It's more central Delhi more middle class Delhi. People have seen high Delhi society or Chandni Chowk, this film is the Delhi you and I see. It's a cooler younger Delhi society wedding with four girls. Yes, Kareena Kapoor Khan will short one schedule and come back post baby," Sonam added.
And regarding her ticket to Hollywood the actress who was recently signed by UTA , said, " I love the way Priyanka has carved out her career in America and Deepika is doing a film too but I didn't want to go down the same route so I signed with the agency. I didn't want to make the mistakes I made here in India by signing anything that came my way so now the agency will find me the work."
And do we see the other Kapoor kids and their dad, Anil Kapoor in a film together? "Well, not any time soon," Sonam said.
Watch: