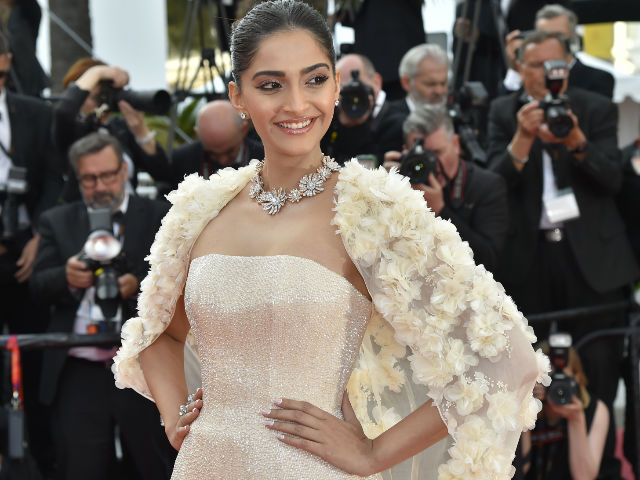 Highlights
Sonam was happy to have mixed Indian elements with western outfits
She only wore Ralph & Russo gowns at the Cannes red carpet this year
You can't let these things (Twitter trolls) affect you, said Sonam
New Delhi:
Sonam Kapoor's Cannes appearance won her fashion points from everyone and the actress, known for her impeccable style sense, said that she was happy to have mixed Indian elements with her western outfits.
The 30-year-old
Neerja
star stood out on the Cannes red carpet in her Ralph & Russo gowns, one of which she teamed up with big gold
jhumka
s.
"I have always tried mixing Indian elements with my outfits at Cannes because it is an international platform. This year was no different. I wanted to represent my country abroad," Sonam told PTI.
When asked why she stuck to one designer for most of her outings at the festival, the actress said, "They (Michael Russo and Tamara Ralph) are very good friends of mine. I spent New Year's with them. I wanted to do something India-inspired and they kind of love India and love me. That's why I did
jhumka
s and a
sari
-gown, which I think was incredible."
Sonam, who won the best style icon trophy at a recent fashion awards ceremony, said she does not take the tag too seriously.
"I think when you go down the unbeaten path, you don't think what others think of you. You think what you want and how you want to see yourself. I am unaffected by the criticism as well as the praise. As far as my work is concerned, it is about me evolving and bettering myself. Nobody can be a harsher critic than I am to myself," she said.
One of Sonam's red carpet appearance at Cannes, a
sari
-inspired long white gown, was criticised by some on social media but the actress is unfazed by it.
Sonam, who found the gown her best outfit, said, "There were just one or two people (who cracked jokes on the dress) but I think it was my most incredible look. I don't believe in taking anything personally. I dress for myself and I felt beautiful."
The
Khoobsurat
actress said internet trolls will not affect celebrities if they handle them with grace and dignity.
"You can't let these things affect you. I don't think it (Twitter trolling) is that big. If you handle such things with grace and dignity, they won't matter to you," she said.