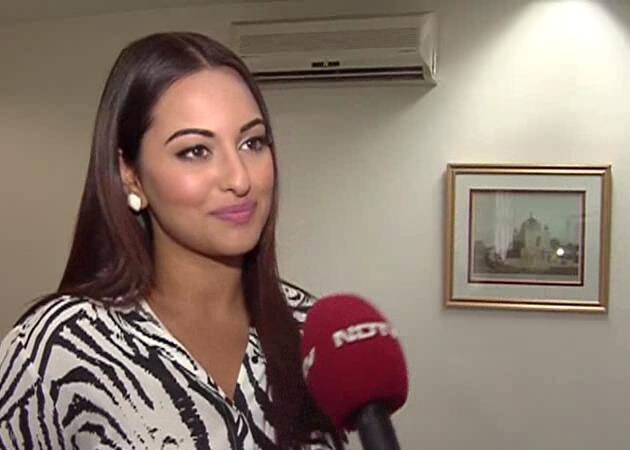 Highlights
Sonakshi Sinha is back to working with her Rowdy Rathore co-star Akshay Kumar and the actress, who's looking stunning nowadays, says working with Akshay is always rowdy since he's a fun person to work with. (Also read: Holiday is not One of my Regular Films: Akshay Kumar)
The actress spoke to NDTV about her upcoming film Holiday and revealed that the film was different from the other movies she had done with Akshay, was far more serious and had a great plot. She revealed, "Holiday is about a soldier who comes back on holiday but finds out about some terrorist activity that's about to happen and he does everything to stop it which is quite thrilling actually."
Sonakshi, who plays a boxer in Holiday, was trained by ace boxer Vijender Singh for her role. She revealed that Vijender taught her the body language of a boxer and luckily she picked it up well because she had always been a sportsperson. "Even when I was younger I used to play a lot of sports and I think it comes naturally to me. They didn't have to work much on me. Murugadoss sir wanted it to come naturally and not look very girly and playful, he wanted it to look professional and Vijender was a big help in that," said Sonakshi in her conversation with NDTV.
When we asked her about her awesome performance in Lootera last year which made her fans comment that she did not need a hero, an overjoyed Sonakshi said, "How sweet, I'm definitely going to take that advice very seriously because I do want to do many more scripts like Lootera. Scripts like that are very rare and I'm waiting for the right one to come. Till I don't feel very strongly about something, I won't do it just for the sake of it. I need something perfect to come along. For example, the role of Pakhi in Lootera was perfect for me, that is why I did it.
So, was she disappointed that Lootera was sidelined at the award shows? Sonakshi revealed she indeed was, "I was hopeful about the film but it's fine. Not receiving an award doesn't make it any less of a great film and that's what matters. Everyday till today, I get tweets, majorly for Lootera and that is our reward in itself."
So, does she feel an actress gets lost in these hero-oriented films? Sonakshi was of the opinion that everybody had a part to play and if it wasn't required, there wouldn't be a heroine in those films. "In Hollywood nobody sees how big the role is. Somebody will play the smallest role and be appreciated for that as well. So these comparisons are not required."
Sonakshi, who is working with superstar Rajinikanth in a Tamil film, said it was an honour to work with such a big star who was also a very humble person. She confided, "I told Rajinikanth I was very nervous about working with him. He said why are you nervous, I'm nervous because you're my friend's daughter. So, that sort of broke the ice between us. He's so humble and such a professional man. There is so much to learn from him. It's amazing to work with a personality like that."
The original Rs 100-crore heroine, who has also shown her mettle in critically acclaimed films, said she preferred films that did well at the box office since they had a larger reach.
Her expectations from the new government which her father Shatrughan Sinha is a part of?
Sonakshi said, "I have great expectations as does anybody else from my generation. The reason they won with such a heavy majority was because people were just fed up of the way things are being run in this country. I'm sure by the way things are going forward that the change is already here and I'm really looking forward to it.
Her preferred holiday destination? The actress chose Barcelona which she visited last year. But there was no body special she wanted to take with her, just some girlfriends. That is something we are sceptical about Sonakshi.
Watch
New Delhi:
Sonakshi Sinha is back to working with her
Rowdy Rathore
co-star Akshay Kumar and the actress, who's looking stunning nowadays, says working with Akshay is always rowdy since he's a fun person to work with. (Also read:
Holiday is not One of my Regular Films: Akshay Kumar
)
The actress spoke to NDTV about her upcoming film
Holiday
and revealed that the film was different from the other movies she had done with Akshay, was far more serious and had a great plot. She revealed, "
Holiday
is about a soldier who comes back on holiday but finds out about some terrorist activity that's about to happen and he does everything to stop it which is quite thrilling actually."
Sonakshi, who plays a boxer in
Holiday
, was trained by ace boxer Vijender Singh for her role. She revealed that Vijender taught her the body language of a boxer and luckily she picked it up well because she had always been a sportsperson. "Even when I was younger I used to play a lot of sports and I think it comes naturally to me. They didn't have to work much on me. Murugadoss sir wanted it to come naturally and not look very girly and playful, he wanted it to look professional and Vijender was a big help in that," said Sonakshi in her conversation with NDTV.
When we asked her about her awesome performance in
Lootera
last year which made her fans comment that she did not need a hero, an overjoyed Sonakshi said, "How sweet, I'm definitely going to take that advice very seriously because I do want to do many more scripts like
Lootera
. Scripts like that are very rare and I'm waiting for the right one to come. Till I don't feel very strongly about something, I won't do it just for the sake of it. I need something perfect to come along. For example, the role of Pakhi in Lootera was perfect for me, that is why I did it.
So, was she disappointed that
Lootera
was sidelined at the award shows? Sonakshi revealed she indeed was, "I was hopeful about the film but it's fine. Not receiving an award doesn't make it any less of a great film and that's what matters. Everyday till today, I get tweets, majorly for
Lootera
and that is our reward in itself."
So, does she feel an actress gets lost in these hero-oriented films? Sonakshi was of the opinion that everybody had a part to play and if it wasn't required, there wouldn't be a heroine in those films. "In Hollywood nobody sees how big the role is. Somebody will play the smallest role and be appreciated for that as well. So these comparisons are not required."
Sonakshi, who is working with superstar Rajinikanth in a Tamil film, said it was an honour to work with such a big star who was also a very humble person. She confided, "I told Rajinikanth I was very nervous about working with him. He said why are you nervous, I'm nervous because you're my friend's daughter. So, that sort of broke the ice between us. He's so humble and such a professional man. There is so much to learn from him. It's amazing to work with a personality like that."
The original Rs 100-crore heroine, who has also shown her mettle in critically acclaimed films, said she preferred films that did well at the box office since they had a larger reach.
Her expectations from the new government which her father Shatrughan Sinha is a part of?
Sonakshi said, "I have great expectations as does anybody else from my generation. The reason they won with such a heavy majority was because people were just fed up of the way things are being run in this country. I'm sure by the way things are going forward that the change is already here and I'm really looking forward to it.
Her preferred holiday destination? The actress chose Barcelona which she visited last year. But there was no body special she wanted to take with her, just some girlfriends. That is something we are sceptical about Sonakshi.
Watch