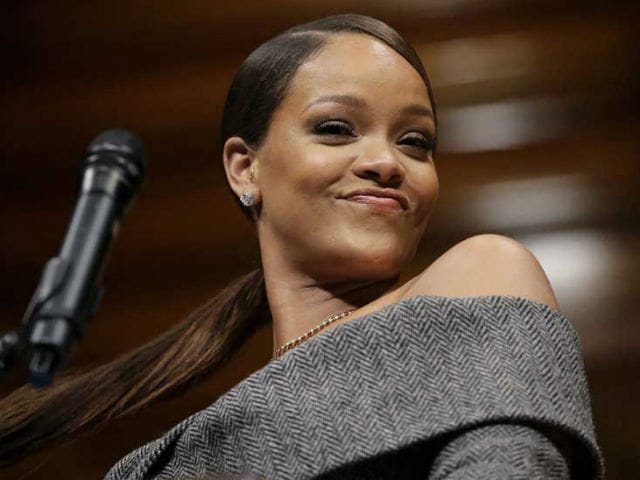 Washington:
There was a
soulful performance
and prayer not by, but for Rihanna on Tuesday night in Cambridge, Mass., before the pop star received the Harvard Foundation award for Humanitarian of the Year.
The dean of Harvard College, Rakesh Khurana, gave her an awe-struck "woahhh" and students praised her chart-topping hits, telling Rihanna she had empowered children to "
shine bright like a diamond
" and inspired students to "
work work work
."
"The pop star and fashion icon we all know as Rihanna has headlined award shows, fashion magazines and bejeweled flask memes," one student announcer said, referring to photos of the singer at this year's Grammy award show with a flask coated in tiny jewels. "Today we are writing a different headline, and that's
Rihanna the humanitarian
."
Rihanna grew up in the Caribbean and moved to the United States at age 16 to begin a career in music. When she was 18, she founded the BELIEVE Foundation, a charity to help critically ill children. Six years later, in 2012, she established the Clara Lionel Foundation, named for her grandparents.
She has used her wealth, influence and global reach to advocate for access to health care and education and speak for women and girls.
Rihanna -
whose full name is Robyn Rihanna Fenty
- accepted the award to the shouts and applause of a rowdy crowd Tuesday. Some of them had waited hours to snag a ticket, reported the student newspaper.
"So," she said with a grin, "I made it to Harvard," then served up an attitude-infused hair flip made for memes.
"Never thought I'd be able to say that in my life," Rihanna added, "but it feels good."
She said she was "incredibly humbled" to be named Humanitarian of the Year, a title bestowed upon such leaders as gender-rights advocate Malala Yousafzai and workers-rights activist Dolores Huerta.
She explained that her drive to help others began as a young girl in Barbados where she would watch television commercials showing children suffering across the world, the ones that ask for a 25 cent donation to save a life.
Rihanna wondered
, she said Tuesday, "how many 25 cents" she could collect to "save all the kids in Africa."
"I would say to myself, when I grow up and I can get rich, I'm going to save kids all over the world," she said. "I just didn't know I would be in the position to do that by the time I was a teenager."
In the decade since, she has served as an ambassador to the UNICEF Tap Project, which raises money for clean drinking water, and the Global Partnership for Education and Global Citizen Project, which helps children, particularly girls, get an education in over 60 developing countries.
Through the Clara Lionel Foundation, she purchased radiotherapy equipment for the oncology unit at the Queen Elizabeth Hospital in Barbados in 2012.
In 2016, she launched a global scholarship program through the foundation which helps residents of Barbados, Brazil, Cuba, Haiti, Guyana, Jamaica and the United States go to college.
"People make it seem way too hard, man," Rihanna said Tuesday. "The truth is, and what that little girl watching those commercials didn't know, is that you don't have to be rich to be a humanitarian. You don't have to be rich to help somebody. You don't gotta be famous. You don't even have to be college-educated ... I mean I wish I was ... especially today ... I might come back."
She trailed off as the room erupted in cheers.
"But it starts with your neighbor, the person right next to you," she said. "You just do whatever you can to help in any way that you can."
(c) 2017, The Washington Post
(This story has not been edited by NDTV staff and is auto-generated from a syndicated feed.)