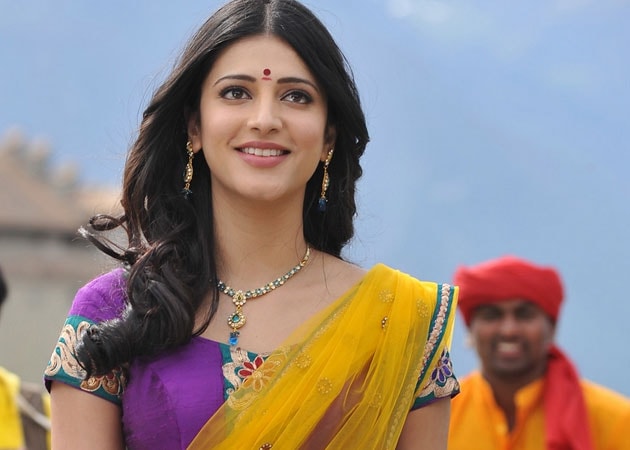 Highlights
Singer-actress Shruti Haasan is keen to sing for Prabhu Deva's upcoming Hindi film in which she features with newbie Girish Taurani. The actress, who began shooting for the film recently has apparently expressed a desire to do the playback as well.
Says a source, "The film is a musical so she feels there is enough chance for her to lend her vocal chords as well. Moreover she is extremely comfortable working with Prabhu Deva as they bond over Tamil. So she has been discussing it with him as well."
Before turning to acting, Shruti concentrated on music. She began singing as a child in her father's Tamil films like Thevar Magan as well as his Hindi films like Chachi 420 and Hey Ram. She has penned the lyrics, composed and sang for South flicks apart from having her own band. She also featured in Dhanush's Kolaveri Di track which was a rage. Adds the source, "She feels that as there are several songs, she can croon some of her own tracks in the movie."
Mumbai:
Singer-actress Shruti Haasan is keen to sing for Prabhu Deva's upcoming Hindi film in which she features with newbie Girish Taurani. The actress, who began shooting for the film recently has apparently expressed a desire to do the playback as well.
Says a source, "The film is a musical so she feels there is enough chance for her to lend her vocal chords as well. Moreover she is extremely comfortable working with Prabhu Deva as they bond over Tamil. So she has been discussing it with him as well."
Before turning to acting, Shruti concentrated on music. She began singing as a child in her father's Tamil films like Thevar Magan as well as his Hindi films like
Chachi 420
and
Hey Ram
. She has penned the lyrics, composed and sang for South flicks apart from having her own band. She also featured in Dhanush's
Kolaveri Di
track which was a rage. Adds the source, "She feels that as there are several songs, she can croon some of her own tracks in the movie."