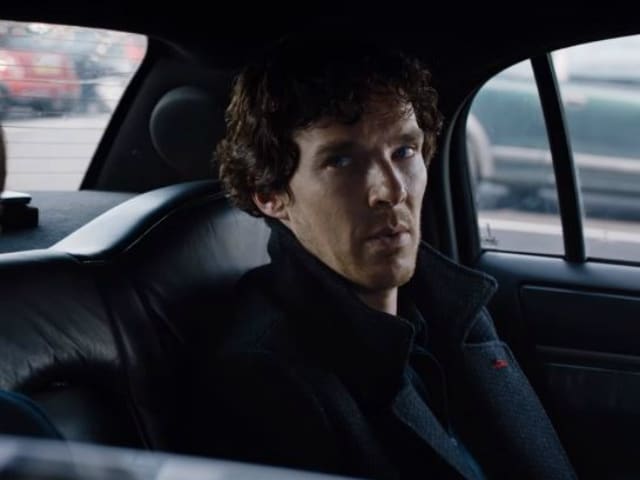 Highlights
The new season of Sherlock will return to BBC in 2017
Toby Jones will be joining the show as another villain
'Something is coming,' the teaser of the next season intoned
Los Angeles:
Fans of the Emmy Awards-winning TV series
Sherlock
have a reason to rejoice, as a new teaser for the fourth season of the show is here with a promise that "everything they know will be tested".
Fans were treated to the first teaser of the fourth season at the British mystery show's Comic-Con panel in Los Angeles. Actors Benedict Cumberbatch and Amanda Abbington, co-creators Steven Moffat and Mark Gatiss and producer Sue Vertue were present.
The new look seemed to be more action-filled than past instalments, and intoned that "Something is coming. Maybe it's Moriarty, maybe it's not. But something's coming."
Mr Cumberbatch
returns as Detective Sherlock Holmes
, joined by his best friend Dr John Watson, played by Martin Freeman.
The show last left off with Andrew Scott's villainous Moriarty seemingly coming back to life after shooting himself in the face.
The detective, however, figured out in the 2016 Christmas special, The Abominable Bride, that Moriarty is in fact dead - but that doesn't mean that the criminal mastermind doesn't pose a threat. Complicating matters is the fact that Toby Jones will be joining the show as another one of Arthur Conan Doyle's villains. Holmes and Watson will have to face problems with both bad guys, which, as the new teaser shows, will be a challenging feat even for them.
Sherlock will return to the BBC in 2017, and will likely air in the US shortly afterwards.
Watch:
(Except for the headline, this story has not been edited by NDTV staff and is published from a syndicated feed.)