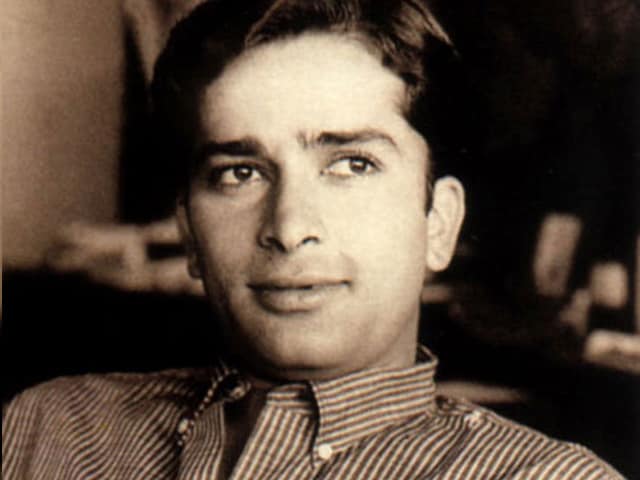 New Delhi:
One imagines that being a member of a storied Bollywood dynasty is both a gift and a curse. The privileges must be extraordinary, but so must the pressure to succeed. Actor Rishi Kapoor laments on his Twitter profile description that he's left 'nowhere' as the 'son of a famous father, father of a famous son.' How much more isolated, then, must have been the young Shashi Kapoor, son of a famous father and brother of two super-Kapoors, until he was able to build his own identity. In fact, he ended up the most versatile of the Kapoors, with roles on stage, in mainstream and parallel cinema, Hollywood productions and with forays into producing and directing.

Born Balbir Raj Prithviraj on March 18, 1938, Shashi Kapoor was the youngest son of theatre and film actor Prithviraj Kapoor and his wife Ramsarni. His elder brothers were Raj and Shammi Kapoor. The young Shashi studied at Don Bosco School in Matunga, Mumbai but his real education was on stage. He travelled around the country with his father's theatre group and began acting in plays at the age of four. He soon began appearing on-screen as a child artiste, appearing as the younger version of Raj Kapoor in 1948's Aag and 1951's Awaara. He then assisted several directors before making his debut as a leading man in Dharmaputra (1961).

Shashi Kapoor appeared in several films with actress Nanda, who he considered his favourite heroine, including the 1965 blockbuster Jab Jab Phool Khile. Over a career spanning 175 films, he appeared in hits such as Waqt (1964), Pyar Kiye Jaa (1966), Sharmilee (1971) and Roti Kapda Aur Makaan (1974). With colleague Amitabh Bachchan, he formed a hit jodi in films like Deewar (1975), Kabhi Kabhie (1976), Trishul (1978), Silsila (1981) and Namak Halaal (1982). At the same time, he was appearing in several English films, mostly produced by Merchant Ivory - 1963's The Householder, 1965's Shakespearewallah and 1982's Heat and Dust. He also appeared in the eponymous role in a controversial 1972 adaptation of the Herman Hesse novel Siddhartha, co-starring Simi Garewal.

With wife Jennifer Kendal, Mr Kapoor appeared in films like 1970's Bombay Talkies and the acclaimed Junoon, which he also produced. Other films he produced included Utsav, 36 Chowringhee Lane and Kalyug. He directed former co-star Amitabh Bachchan and Dimple Kapadia in 1991's Ajooba. Mr Kapoor won the National Award thrice for Junoon, New Delhi Times and 1993's Muhafiz or In Custody, which was his last proper film appearance. He received the Padma Bhushan in 2011 and will receive the Dadasaheb Phalke Award for 2014.


Shashi Kapoor married actress Jennifer Kendal in 1958, after a romance that might have been scripted for Bollywood. They met while each was on tour with their respective theatre companies in Kolkata - Shashi with his father's Prithvi troupe and Jennifer as part of her father Geoffrey Kendal's Shakespeare group. In true filmy style, the young Shashi had to win over not just the object of his affections but her disapproving father as well. Support for the romance came from actress Geeta Bali, who was then married to Shashi's elder brother Shammi Kapoor. Jennifer Kendal died of cancer in 1984, leaving behind a shattered husband and three children - Kunal, Karan and Sanjana.
Shashi Kapoor is now seldom seen in public, making rare appearances for old friends like Amitabh Bachchan. He also spent some time in hospital last September for a chest infection.