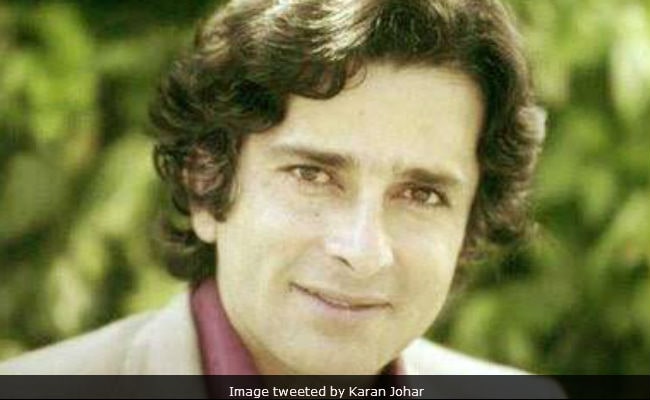 Highlights
Shashi Kapoor dies at 79
"Will miss you," tweeted Karan Johar and others
Shashi Kapoor featured in films like Deewar and Junoon
New Delhi:
'An era gone,' tweeted Shashi Kapoor's co-star Simi Garewal, "All that remains are his films and precious memories." What an era it was, and what memories. Shashi Kapoor died in a Mumbai hospital on Monday - he was 79 and had been on dialysis for failing kidneys. His death has left generations of Bollywood fans shocked and grieving. On Twitter,
the late star is being remembered with respect and admiration.
Messages have been posted by President Kovind, Vice President Naidu, several political leaders, cricketers and many other prominent personalities - Shashi Kapoor, last of his generation of Kapoors, had fans everywhere.
Bollywood has been left reeling in sorrow. Early tweets were posted by two of his former heroines, Shabana Azmi and Simi Garewal.
We will miss you ... pic.twitter.com/ZMGoFk0DCM

— Azmi Shabana (@AzmiShabana) December 4, 2017
Am deeply saddened by the passing away of my co-star #ShashiKapoor. The last of that generation of Kapoors gone. A gentleman and friend gone. An era gone.. All that remains are his films...and precious memories.. RIP Shashi-ji.

— Simi Garewal (@Simi_Garewal) December 4, 2017
Sridevi, Aamir Khan, Ajay Devgn, Lata Mangeshkar, Karan Johar, Bipasha Basu, Arjun Rampal and others from Bollywood also tweeted:
A great actor, a charming & happy soul, an inspiring humanitarian. We will miss you Shashi ji. RIP #ShashiKapoor

— SRIDEVI BONEY KAPOOR (@SrideviBKapoor) December 4, 2017
December 4, 2017
You won't be forgotten. Rest in peace #ShashiKapoor ji.

— Ajay Devgn (@ajaydevgn) December 4, 2017
#RIPShashiKapoor ...the most charming and enigmatic actor ever...a gentleman movie star! His legacy in film and theatre is exceptional...thoughts and prayers with the family....his work will always live on... pic.twitter.com/U9jsAGxGET

— Karan Johar (@karanjohar) December 4, 2017
So sad to hear the passing of the most charming #ShashiKapoor ji, really saddened by this news. Pray for his soul to find peace. Thank him for the amazing memories he gave us all. Condolences to the Kapoor family. #RIP SIR.

— arjun rampal (@rampalarjun) December 4, 2017
Mujhe abhi pata chala ki guni Abhineta Shashi Kapoor ji ka aaj swargwas hua .Ye sunkar mujhe bahut dukh hua, wo ek bahut bhale insaan the. Meri unko vinamra shraddhanjali.

— Lata Mangeshkar (@mangeshkarlata) December 4, 2017
...... You will be remembered forever... Thank you for being part of my growing up years, thank you for the entertainment. The Charmer, The Style Icon, The Actor. #ShashiKapoorji - RIP Sir, Condolences to the family.

— Riteish Deshmukh (@Riteishd) December 4, 2017
My heart is broken. My all time favourite actor, the man with the most charming and kind smile has passed away. Will always remember the twinkle in his eye each time we met... #RIPShashiKapoor

— Dia Mirza (@deespeak) December 4, 2017
Shashi Kapoor .... sigh.

— TheRichaChadha (@RichaChadha) December 4, 2017
Sad to hear about the passing away of our most charismatic handsome & finest actor #ShashiKapoor. Sir you will always remain in our hearts. RIP

— Ritesh Sidhwani (@ritesh_sid) December 4, 2017
Shashi Kapoor was the son of actor Prithviraj Kapoor and the younger brother of Raj and Shammi Kapoor. After playing young Raj Kapoor in films such as
Awaara
, Shashi Kapoor made his debut as a leading man in 1961 film
Dharamputra
.
Over the next 40 years, Shashi Kapoor starred in films such as
Deewar
,
Kabhi Kabhie
,
Jab Jab Phool Khile
,
Trishul
,
Namak Halaal
and
Junoon
. He was a regular collaborator with director-producer team Merchant-Ivory.
He was married to actress Jennifer Kendal and they had a daughter, Sanjana, and two sons, Kunal and Karan.
Shashi Kapoor received the Padma Bhushan and Dadasaheb Phalke awards from the government, and several other film honours.
Shashi Kapoor had been in a wheelchair for the last few years and rarely made public appearances. He was last seen at the Dadasaheb Phalke Award ceremony and at a birthday party for Amitabh Bachchan, with whom he made several films.