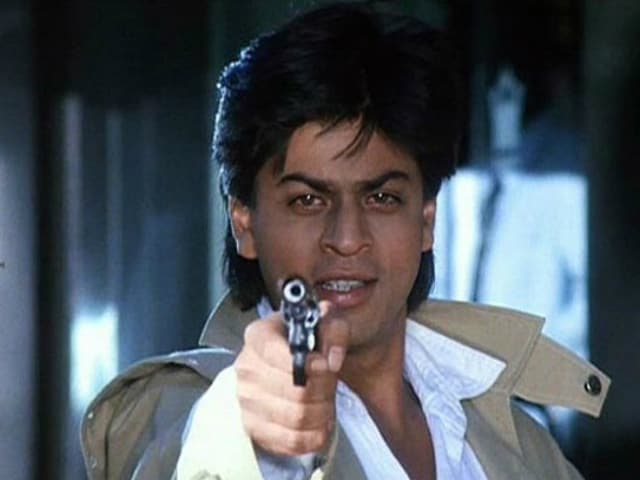 Highlights
'I've never said this on any interview,' said SRK
'Thought I'm not good-looking enough to be a hero,' he said
'I didn't do it because I was gutsy,' he added
New Delhi:
Shah Rukh Khan
, a self-made actor if ever there was one, told NDTV a 'secret' about his beginnings in Bollywood. "This is a secret, I've never said this on any interview," Shah Rukh Khan said on
Spotlight
about the real reason he signed films like
Baazigar and Darr
early in his career. Just a year after his big screen debut in 1992's
Deewana
, 26-year-old SRK was cast as the antihero in
Baazigar
and
Darr
and then again in 1994's
Anjaam
. These were star-making roles and now, some 25 years on, SRK has been feted for those career-defining decisions so many years ago. But by SRK's own account, it wasn't because he was being 'gutsy' that he ended up being cast as
Baazigar
's vengeful Vicky/Ajay or the obsessed
Rahul of Darr
.
"The reasons I agreed to do roles which the other guys were saying no to (for whatever their mindset was), a
Darr
or a
Baazigar
, was because I thought I'm not good-looking enough to be a hero, so let me just get a villain's job. I didn't do it because I was gutsy or because I knew I could pull it off, I'm such a great actor," Shah Rukh Khan, 51, said on Spotlight.
One of his directors (whom SRK refused to name) told him, "You're so ordinary and ugly looking, I can use you for anything." And that suited
Shah Rukh Khan
just fine just so long as he got to act.
'I took on roles because I just wanted to act. It didn't make any difference if I was going to become Rishi Kapoor or Amitabh Bachchan, it didn't matter if I became Salman Khan or Aamir Khan - they were already working here. I just wanted to act because I thought I know a bit of it," he said.
You don't have to be good-looking of gifted or connected, SRK said - he doesn't think he is any of this. "Don't worry about the outside world having assumptions and criteria," he advised a young audience on
Spotlight
.
Video: Watch what Shah Rukh Khan said:
His days of playing the antihero aren't behind him yet. Shah Rukh Khan returns to shades of grey in his new film
Raees
, starring as a boot-legger and criminal figure in 1980s Gujarat.
Raees co-stars Nawazuddin Siddiqui
and opens on January 25.