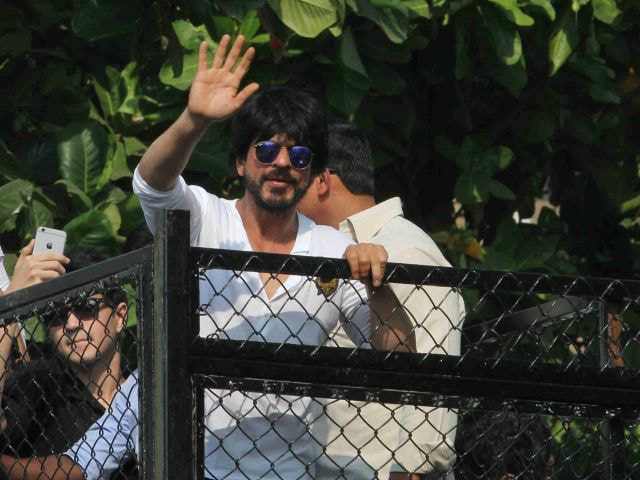 New Delhi:
Actor Shah Rukh Khan turned 50 on Monday and, as congratulatory messages began pouring in for the actor on Twitter and elsewhere, could his fellow Khans be far behind?
Salman, who will be 50 in December, was quoted as saying by news agency PTI, "I wish him the best in life. I wish him good health, family, success and the most amazing life. I would want the whole family to be healthy. I wish that for everyone." (Also Read:
Salman Wishes Shah Rukh 'Good Health and Success'
)
Aamir, who turned 50 in March, sent SRK this message on Twitter.
Hey Shah, many happy returns of the day. May you continue to shine and give us joy. Love. a.

— Aamir Khan (@aamir_khan) November 2, 2015
Here are the rest of the Bollywood wishes for SRK's half century:
Happy 50th Birthday SRK

— A.R.Rahman (@arrahman) November 2, 2015
Happy birthday @iamsrk have a super year ahead, I'm coming to see u soon. In the meanwhile look what I found pic.twitter.com/HfKNWbIIie

— Ritesh Sidhwani (@ritesh_sid) November 2, 2015
Happy 50th to my darling @iamsrk .. 50 yrs of combined friendship, millions of happy memories n many more to come pic.twitter.com/IsKcmkzT7c

— Farah Khan (@TheFarahKhan) November 1, 2015
Not seen a slip in his spritely step nor his mental ticker & fatigue is for those who try to keep up with him.50? Ok!Happy birthday @iamsrk

— Boman Irani (@bomanirani) November 1, 2015
Wishing my dilwala friend @iamsrk a very happy birthday and a wonderful year ahead :)

- Kajol (@KajolAtUN) November 2, 2015
Happy birthday @iamsrk loads of love, luck, sexiness, health blockbusters to my first hero & to the man I truly admire & love

Preity zinta (@realpreityzinta) November 1, 2015
Happy birthday @iamsrk may all ur FANS hv a great day 2day. applause 4 ur vision n al at red chilies! Loved it.

- Hrithik Roshan (@iHrithik) November 2, 2015
A big reason for my beginning as a filmmaker..I will always be grateful...Happy 50 Bhai!!! Your golden era is legendary.. Big love @iamsrk

- Karan Johar (@karanjohar) November 1, 2015
Happy birthday Bhai!!!!! @iamsrk.....all the love from all of us at @DharmaMoviespic.twitter.com/3ZIPWcaYaf

- Karan Johar (@karanjohar) November 1, 2015
Happy Birthday to you, happy birthday to you, happy birthday dear Don, happy.. ?? Arre.. kahan gaya?? @iamsrk love & best wishes always.

- Farhan Akhtar (@FarOutAkhtar) November 2, 2015
He's the reason I dreamt of becoming an actor. He's the reason I studied mass comm. He's the reason I believe in love. Happy Bdy @iamsrk sir

- Ayushmann Khurrana (@ayushmannk) November 1, 2015
Was 1 of the lucky few to see the first cut of this at yrf, few days back. Was waiting since then. SRK fans delight https://t.co/TxzbEkLAD3

- Ayushmann Khurrana (@ayushmannk) November 1, 2015
Fans were more exuberant:
SRK Day pic.twitter.com/sW9zq36gdi

HBD || SRK DAY || (@PrasadSRKian) November 1, 2015
God spreading his love @iamsrk SRK Day pic.twitter.com/DW7ufIMZne

HAPPY SRK DAY (@My_SRK_RK) November 1, 2015
rahaf_rifa: https://t.co/0kkBhugpaB HAPPY WALA BIRTHDAY iamsrk Shah Big Love and Respect ! [ SRK Day

sneha (@lovelysneha_) November 2, 2015
Written by : @kapilvarala for @iamsrk SRK Day ! pic.twitter.com/TShHDD7zIh

#HappyBirthdaySRK (@SRKDiary) November 2, 2015
From a poor Delhi Boy to a 2nd Richest Actor in the world... An inspiration for millions. @iamsrk#Salute | SRK Day |

50YearsOfKingKhan (@KingKhan2007) November 2, 2015
My blue check, Up collard Guy #IAmGaurav@iamsrk Im so in Love with you10;SRK Day pic.twitter.com/mRD8yHbHmo

SRK Day (@SRKianPrincess) November 2, 2015