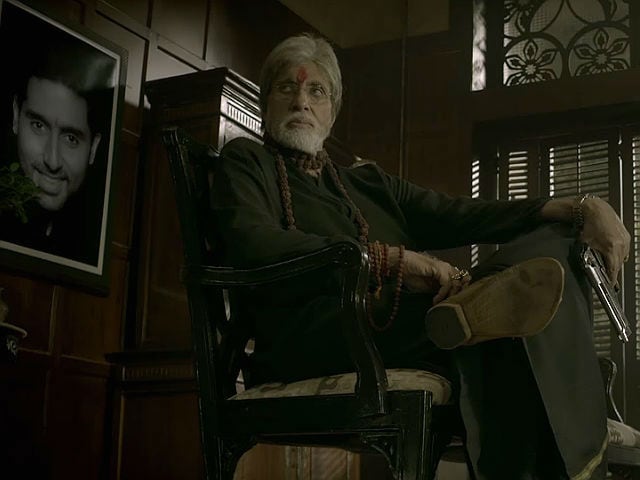 Highlights
Nothing has changed about Sarkar - he's still angry and has many enemies
Sarkar 3 has all new characters except that of Big B and Supriya Pathak
Amit Sadh plays Big B's onscreen grandson, Cheeku
New Delhi:
Ram Gopal Varma and Amitabh Bachchan
are back with a new chapter of their critically acclaimed film series,
Sarkar
, which is inspired from Hollywood series
The Godfather
.
Sarkar 3
releases tomorrow and moviegoers will watch Amitabh Bachchan as Subhash Nagre. A lot of time has lapsed since the events of
Sarkar Raj
(2007) but two things have not changed -
Subhash Nagre is still very, very angry
and he has many enemies. Like was the case in
Sarkar
and
Sarkar Raj
, in
Sarkjar 3
too, Subhash Nagre's has enemies inside and outside his home. The first one is Shivaji Nagre (aka Cheeku), who is now grown up and mimics his father Vishnu's hot headedness. In the first film, Subhash Nagre ordered his son's death after he learned about Vishnu's failed attempt to assassinate him. Will Cheeku avenge his father? Shivaji Nagre's role is played by Amit Sadh.
Yami Gautam plays the role of Annu Karkare, who wants to avenge Subhash Nagre aka Sarkar's unfair dealing which changed the fate of her family. Govind Deshpande (Manoj Bajpayee), Gokul Satam (Ronit Roy), Michael Vallya (Jackie Shroff) and Rukku Bai Devi (Rohini Hattangadi) are also Sarkar's new enemy.
From the film's trailers and songs (there's an
Angry Mix
and a
Ganesha aarti
) we know that Subhash Nagre is easily angered. Sarkar is now managing his entire empire after his son Shankar (whom Sarkar loved dearly) was killed by his enemies in a conniving plan. Shankar's role was played by Abhishek Bachchan, whose portrait dominates Sarkar's chambers in
Sarkar 3
.
Watch the trailer of
Sarkar 3
:
Meanwhile, Supriya Pathak, the only original member of the
Sarkar
series apart from Mr Bachchan, will reprise the role of Pushpa Nagre.
Sarkar
3 hits the screens tomorrow with Parineeti Chopra and Ayushmann Khurrana's
Meri Pyaari Bindu.