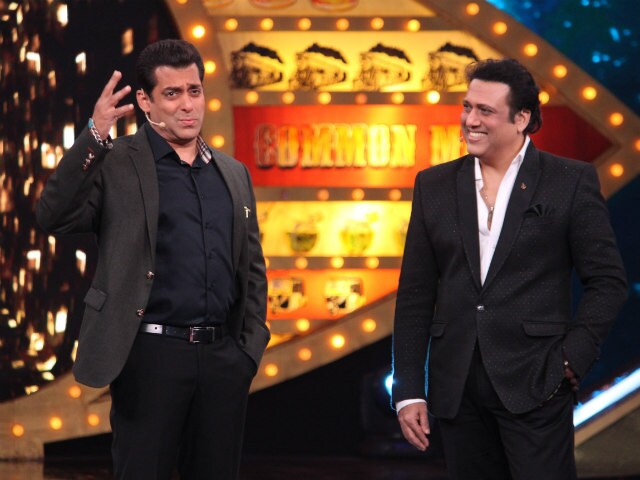 Highlights
'Salman, SRK and I will be the only stars at the premiere,' said Govinda
Salman is Govinda's co-star from 2007 hit Partner
Govinda's Aa Gaya Hero is releasing March 3
New Delhi:
Actor Govinda's comeback film
Aa Gaya Hero
has reportedly got a superstar boost in the form of actors Salman Khan and Shah Rukh Khan who will apparently attend the premiere of the film, releasing March 3. Govinda told
mid-day
, somewhat immodestly, that he, Salman and SRK would be the 'only stars' invited. "Three of us - Salman, Shah Rukh Khan and I - will be the only stars at the premiere," he said. It's not clear if he meant that no other celebs would on the guest list or that they would be invited but not counted as 'stars.' Salman is Govinda's co-star from 2007 hit
Partner
.
The presence of the Khans, or expected presence, should undo some of Govinda's apparent grudge against the world.
His litany of complaints
, made to
Pinkvilla
, lists unexpected criticism of filmmaker Karan Johar, and even more surprisingly, David Dhawan, who directed Govinda in his glory days. Asked if he would be appearing on Karan Johar's
Koffee With Karan
, Govinda told
Pinkvilla
, "He must have said that it would be a matter of national respect for him if he calls Govinda, but he is releasing Varun's (Dhawan) film just a week after my film. He shows that he's very humble and innocent, but
woh mujhe
David (Dhawan)
se zyaada jealous and zyaada khatarnak lagta hai
."
David Dhawan's crime
was apparently to make what would have been his 18th film with Govinda with actor Rishi Kapoor instead. "When I asked David to make the 18th film with me, he took my subject and titled it
Chashme Baddoor
and cast Rishi Kapoor in it. Then I asked him to put me as a guest appearance. He didn't do that too. After that, I didn't meet him for some years. I kept requesting him to take at least one shot with me so that it could be my 18th film with him," the 53-year-old actor told news agency PTI.
Govinda and David Dhawan
collaborated on Nineties hits like Hero No 1 and
Haseena Maan Jayegi
.
On a more poignant note, Govinda recently spoke feelingly about how Bollywood treats those who don't have hits to back them up. "Industry is in few hands, and has always been. It all depends on the release of films and your success. Everything revolves around success. Success
hoga to kamaal hoga, tab hi log tumse baat karenge
(If you are successful then only people will talk to you)," he told PTI.
Govinda's last few film appearances - in 2014's
Kill Dil
and
Happy Ending
- were favourably reviewed but, as he told PTI, "I was not getting the songs I used to do, the kind of dialogues I used to mouth. I used to try planning a few things on sets but the director used to say, 'No sir, we won't be doing that. You just have these many minutes in the film'. "This was not working for me, it became very important for me to comeback as a hero."
Aa Gaya Hero
, the title of which is self-explanatory, co-stars Ashutosh Rana, Chandrachur Singh and Makarand Deshpande. Govinda has both writing and producing credits as well.