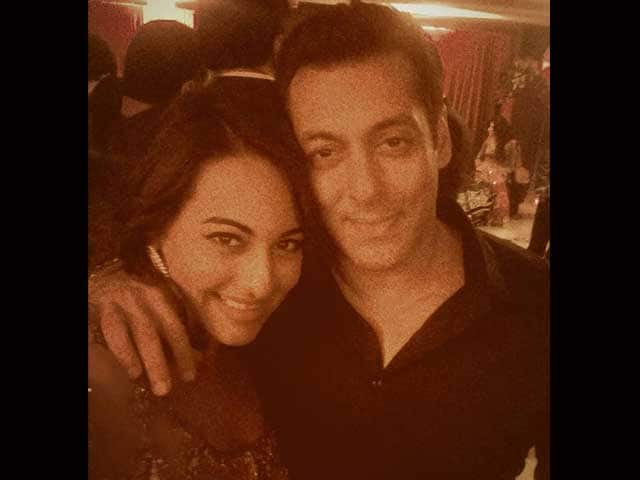 Actor Salman Khan was five on microblogging site Twitter yesterday and he tweeted a belated acknowledgment late last night. (Also read: 'Salman Khan's Driver is Lying,' Says Prosecution in Hit-And-Run Case )

Salman thanked his brother Arbaaz, who is believed to be the reason the actor joined Twitter:

5 yrs on twitter! Thx to arbaaz .

- Salman Khan (@BeingSalmanKhan) April 13, 2015

He also thanked his Dabangg heroine Sonakshi Sinha:

N sorry, sonakshi devi too, she also had a small part to play in me joining twitter n counting followers. Thx dubli patli sonakshi devi.

- Salman Khan (@BeingSalmanKhan) April 13, 2015
Aur aap sub ko bhi thank u too.

- Salman Khan (@BeingSalmanKhan) April 13, 2015

#5YearsOfSalmanOnTwitter trended on Twitter all of yesterday.

Salman, who made his debut as leading man in Maine Pyar Kiya and has recently starred in blockbusters such as Dabangg, Kick, Bodyguard and Ek Tha Tiger, has been on Twitter since 2010. He joined in April, just a few months before the release of the blockbuster Dabangg. Since then, he's gathered 11.4 million followers and has put out 41,500 tweets.

He follows only 10 other Twitter handles - brother Arbaaz Khan, sister Arpita, actresses/co-stars Preity Zinta, Sonakshi Sinha, Daisy Shah and Jacqueline Fernandez, tennis star Sania Mirza, actor Pulkit Samrat who is by way being his protege, actress-politician Bina Kak and his own charity Being Human.


In his Twitter profile, Salman describes himself as 'Film actor, artist, painter, humanitarian.'.
The many subjects the actor addresses on Twitter include his films, family and Being Human. He also notably sent out a series of tweets in 2012 asking Pakistan to free Sarabjit Singh, an Indian on death row across the border. A year later, a grieving Salman tweeted again when Sarabjit died after being attacked by two fellow prisoners in the Lahore jail he had spent over 20 years in.
Sometimes, Salman tweets with characteristic humour:
Arre koi hai ? Itna sannata kyun hai bhai ?

- Salman Khan (@BeingSalmanKhan) January 19, 2011
Pass word bhool gaya tha , badam khaya toh yaad ah gaya .

- Salman Khan (@BeingSalmanKhan) January 19, 2011

Sometimes with indignation:
Hate this bloody name , bollywood , koi naam hai kya ? Disgusting .

- Salman Khan (@BeingSalmanKhan) February 2, 2011
Hollywood se bollywood naam nikla, this is nt the name of our industry. Don't kno whr this ridiculous name has cm frm n got stuck .

- Salman Khan (@BeingSalmanKhan) February 2, 2011
Bollywood was fr wen mumbai was called bombay toh kya shld it nt b called mumllywood,hw ridiculous is it.it makes us look like chamchas

- Salman Khan (@BeingSalmanKhan) February 3, 2011

He also shouts out to some colleagues:
Omg ! Jst heard priyanka chopra's english track 3 times bak to bak , called in my city . Its fab , outstanding ! SALAAM miss chopra .

- Salman Khan (@BeingSalmanKhan) September 14, 2012
Boom boom boom,arre this jackky bhagnani dances really well.Jst saw his song,ek dum effortless,pray all his hard work pays off.gd bls

- Salman Khan (@BeingSalmanKhan) October 8, 2012

And takes gentle digs at others:
wah ! Wah! Sonakshi devi WAH ! Thank u frm all our side for itna saara info .

- Salman Khan (@BeingSalmanKhan) September 28, 2012
Sonakshi devi ka aaj koi tweet nahi ? Khamosh ho gayee .

- Salman Khan (@BeingSalmanKhan) September 29, 2012
Come on Zinta. Me watching u Zinta. pic.twitter.com/hOMCrZZowG

- Salman Khan (@BeingSalmanKhan) April 10, 2015

He also leans heavily towards stream of consciousness tweeting at times:
Soch raha hoon wat to tweet

- Salman Khan (@BeingSalmanKhan) October 19, 2012
Thinking of tweeting today .

- Salman Khan (@BeingSalmanKhan) May 28, 2014
Toh kar he deta hoon tweet

- Salman Khan (@BeingSalmanKhan) May 28, 2014