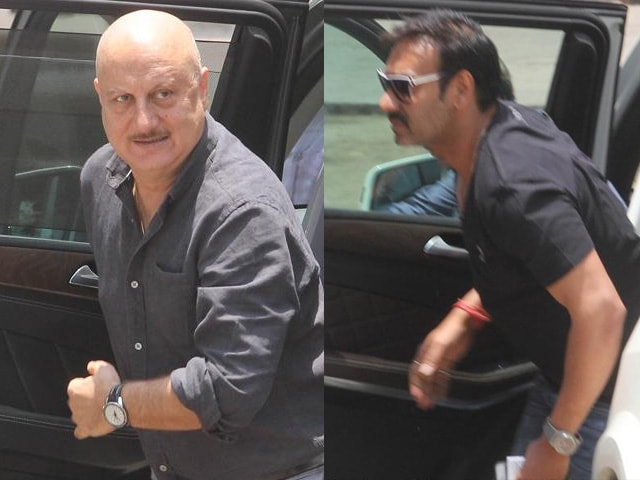 New Delhi:
It was not just Salman Khan's family who was relieved soon after after his sentence of five years in jail was suspended by the Bombay High Court pending appeal. In court, his sister Alvira shed tears of relief, outside it a string of high profile celebs began pouring into Mumbai's Galaxy Apartments, the home he shares with his parents. (
Pics - Bollywood Gushes on Twitter
)
While actor Ajay Devgn, a close friend of Salman's was already with the family even while the actor's appeal for bail was being argued in court, his
Prem Ratan Dhan
co-star Anupam Kher rushed to be with the Khans soon after.
"It's not just a huge relief to the Khan family. It's a huge relief to the entire industry. He is gem of a person and if I may say so, all his good work that he has done is now coming in his favour.
We have been praying for him and I'm happy for him. Whatever we are today, it's only because of him. He has given break to so many newcomers," writer-director Sajid Samji told news agency IANS.
Twitter erupted with reactions from overjoyed well-wishers of Salman. Here's what they wrote
Back. Welcome reprieve for Salman. Unprecedented reaction to this news.Was wondering mere Twitter wapis aane pe Kya 1/100th%reaction hoga?

rishi kapoor (@chintskap) May 8, 2015
The kindness of a man has been judged by the god himself... Good deeds never go in vain. Thank you 1 n all for the prayers n love.

Daisy Shah (@ShahDaisy25) May 8, 2015
So happppppy to hear the good news that @BeingSalmanKhan has got bail . Prayers of all have been answered

ameesha patel (@ameesha_patel) May 8, 2015
Agar dua dil se ho toh zarur puri hoti hai .... Thanx to all @BeingSalmanKhan fans for their prayers and good wishes ...I'm sooooooo happy:)

— King Mika Singh (@MikaSingh) May 8, 2015
My best wishes to big brother @BeingSalmanKhan and I'm 200% sure God will help the man who always helps others. Keep praying :)

King Mika Singh (@MikaSingh) May 8, 2015
salman khan salman khan salman khansalman khan salman khan salman khan..

Baba Sehgal (@OnlyBabaSehgal) May 8, 2015
Joy and Happiness for @BeingSalmanKhan and family..all prayers were listened to ..jai mahasar maa

— satish kaushik (@satishkaushik2) May 8, 2015
Sonakshi Sinha's brother Luv made it quite clear where his sympathies lay. He wrote on Facebook:
"If you talk about justice being served then why not talk about how Alistair Perrera served 3 years for killing 7 people while being drunk, how Mr Sanjeev Nanda served a shorter sentence even after running down 7 people while intoxicated and Mr Puru Raj kumar as well.
Mr Salman Khan has been sentenced to five years even though the other cases were far more heinous. I have nothing against the individuals. I would assume that since the other two individuals were not movie stars who were involved in far more serious accidents they were not worth being crucified by the media as the TRP's wouldn't shoot up. As I wrote earlier this is my personal opinion but I'd like to hear what you have to say as well."