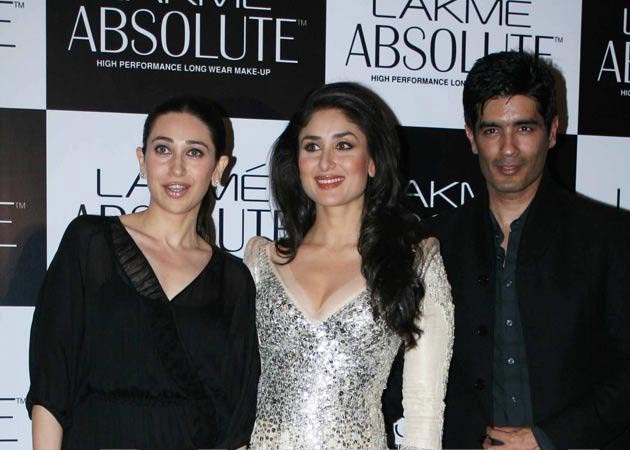 Highlights
The big Bollywood wedding of the year is just days away and designer Manish Malhotra is a busy man.
Manish, a close friend of both Kapoor sisters, has been actively involved with preparations for Kareena's October 16 nuptials with Saif Ali Khan, and has said that he considers it a wedding in his family.
Manish Malhotra, who is in charge of Kareena's wedding trousseau, tweeted: "This morning :fittings with karisma for her clothes for kareenas wedding :-)"
For her big, Kareena Kapoor is expected to wear a refurbished version of future mother-in-law Sharmila Tagore's traditional garara.
Veteran designer Ritu Kumar brought the outfit up-to-date with a few touches of her own. Manish Malhotra has designed the outfits for two other functions for Kareena. He had earlier revealed the clothes will be minimalistic, and will reflect old world charm. According to reports, the bride-to-be is also going to shed the extra kilos that she has piled on in the recent past, for which she is sticking to a special diet that will make her more 'fit' but not size-zero. And while we have to ask what extra kilos?, we have absolutely no doubt that Bebo will make a most beautiful bride. (With IANS and Mid-Day inputs)
New Delhi:
The big Bollywood wedding of the year is just days away and designer Manish Malhotra is a busy man. Manish, a close friend of both Kapoor sisters, has been actively involved with preparations for Kareena's October 16 nuptials with Saif Ali Khan, and has said that he considers it a wedding in his family.
Manish Malhotra, who is in charge of Kareena's wedding trousseau, tweeted: "This morning :fittings with karisma for her clothes for kareenas wedding :-)"
For her big, Kareena Kapoor is expected to wear a refurbished version of future mother-in-law Sharmila Tagore's traditional
garara
.
Veteran designer Ritu Kumar brought the outfit up-to-date with a few touches of her own. Manish Malhotra has designed the outfits for two other functions for Kareena.
He had earlier revealed the clothes will be minimalistic, and will reflect old world charm.
According to reports, the bride-to-be is also going to shed the extra kilos that she has piled on in the recent past, for which she is sticking to a special diet that will make her more 'fit' but not size-zero.
And while we have to ask what extra kilos?, we have absolutely no doubt that Bebo will make a most beautiful bride. (With IANS and Mid-Day inputs)