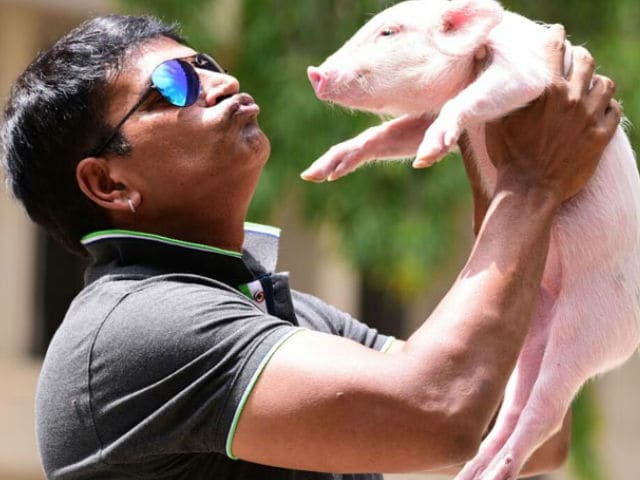 Highlights
Ravi Babu queued up with his piglet to withdraw cash
People were surprised but nobody made a fuss, he said
Ravi Babu stars with the piglet in upcoming film Adhugo
New Delhi:
Actor-filmmaker Ravi Babu was spotted with a piglet (yes, that's right), who has a pivotal role in his film
Adhugo
, as he queued up to withdraw cash from a bank in Hyderabad on November 22. After Prime Minister Narendra Modi
banned Rs 500 and Rs 1000 notes
earlier this month, the serpentine queues outside banks and ATMs have increased like never before. People are paying others to stand in their place and often go in groups to tackle hours-long wait, but Ravi Babu just beat them all.
Ravi Babu's company for the queue was a piglet, who the actor said plays the central character in his upcoming Telugu film
Adhugo
. "Wherever I go these days, I take the piglet along. I can't leave him at home because there's nobody to take care. I had to withdraw cash from the bank, so I decided to take the piglet with me. Although people were a little surprised to see it, nobody made a fuss out of it," Ravi Babu told IANS.
"I raised a few piglets in my friend's farm for the film. Most of the film was shot with a real piglet but we did use animatronics to shoot some important sequences. It's the first time an Indian film has used a piglet," he said.
Ravi Babu, who has directed some 12 odd films, mainly starred in villain's role in Telugu cinema. Ravi Babu started his career with 1998 film
Maavidakulu
directed by EVV Satyanarayana in which he played the anatginist. The film was a blockbuster. Ever since he's starred in films like
Murari
,
Anasuya
,
Yavarum Nalam
,
Dochay Swamy Ra Ra
and
Seethamma Vakitlo Sirimalle Chettu
, all of which were critically acclaimed. In 2002, he debuted as director with
Allari
.
Meanwhile, Ravi Babu's
Adhugo
also starring the piglet is produced by Suresh Babu and currently in its post-production stage.
(With inputs from IANS)