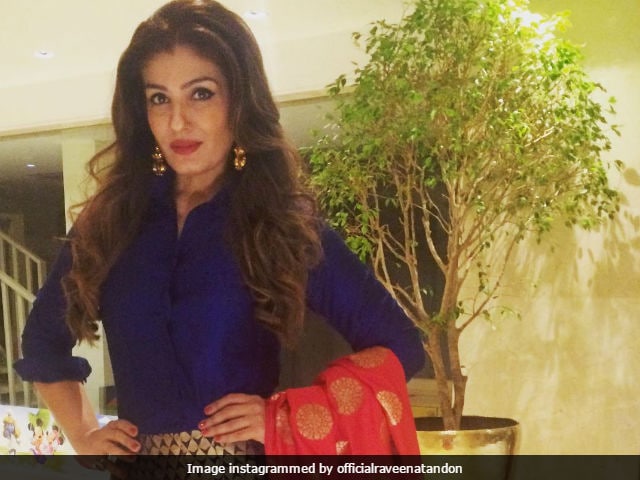 Highlights
"More films like Maatr, MOM and Pink should be made," said Raveena
Raveena Tandon says she finds the term 'comeback' strange
Maatr, directed by Ashtar Sayyed, is scheduled for release on April 21
New Delhi:
Comparisons were drawn after the poster of Raveena Tandon's upcoming film
Maatr - The Mother
was released a week after the official poster of Sridevi's movie
MOM
. Both the posters were intense and intriguing and the actresses looked fierce. Raveena Tandon's Maatr is scheduled to release in theatres on April 21. Speaking about the film, the 42-year-old actress told news agency PTI that her film couldn't be compared with Sridevi's forthcoming movie
Mom
. The
Shool
actress said: "She is a senior, I respect her a lot and I've always been the biggest fan of hers. I am proud that, whether it's
Pink
,
Mom
or
Maatr
, our industry is making these films today. I hope such films are made more."
Raveena Tandon added: "So, there is no comparison. I feel a message like this should be given at least six months or a year to wake up people."
Maatr marks Raveena Tandon's comeback to the big screen after a gap of two years
. However, the
Ziddi
actress told PTI that she finds the term 'comeback' strange. "I find that a very strange term. Nobody uses it internationally. Everyone becomes selective after a while. I worked in the '90s where we used to do 30 films at a time. But the whole trend has changed. As an actor I've reached a point where I'll do a film which I believe in," Raveena said.
"I did a couple of films in the middle which went to festivals. I completed Onir's
Shabh
. I don't see myself going anywhere. I've been working on TV all along. After I have done
Maatr
and
Shabh
, I don't know when I'll do a film again. How many times will I make a comeback," she told PTI.
The trailer of Maatr was released by the makers of the film today
. The trailer highlights the failure of the judiciary and the society to deliver justice in rape cases.
"The mindset needs to change. Often we see comments like 'why did she wear a jeans, skirt, or why was she out so late', they are shaming the victim more. Rather than saying they are our sisters, daughters, and we apologise as political leaders that we failed to protect them," Raveena Tandon told PTI.
Maatr
has been directed by Ashtar Sayyed and written by Michael Pellico. The film has been shot in Delhi and Haryana. Hasan Malik, Madhur Mittal, Divya Jagdal, Shailender Goyal, Anurag Arora, Saheem Khan and Rushad Rana will also been seen in pivotal roles in the movie.
(With PTI inputs)