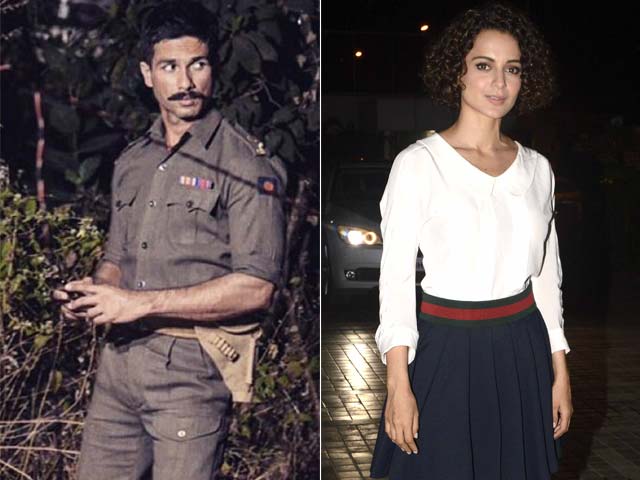 Highlights
Rangoon casts Kangana Ranaut, Shahid Kapoor and Saif Ali Khan
Is there anything less in being a heroine: Shahid Kapoor
Rangoon is reportedly inspired by the Hollywood film Casablanca
New Delhi:
Actor Shahid Kapoor had the snappiest of comebacks to his
Rangoon
co-star Kangana Ranaut's identifying of herself as the 'third hero' in the Vishal Bhardwaj-made film.
Rangoon
also stars Saif Ali Khan.
Shahid, 35, out-Kangana-ed Kangana in an interview to
DNA
.
"Why doesn't she say there are three heroines in the film? Is there anything less in being a heroine? There are three protagonists in the film and for me, being a hero or a heroine doesn't make any difference. So, if saying that you being a hero makes you a bigger person, I don't agree with that thought process," Shahid told
DNA
.
Kangana
, who is believed to have hiked her fee to Rs 11 crore after the success of
Queen
and
Tanu Weds Manu Returns
, reportedly said she received the same salary as Shahid and Saif for
Rangoon
.
"Pay parity depends on the saleability of a particular person. I can also sit and cry that I am getting less money than other male actors," Shahid told
DNA
.
Shahid added that he cannot afford to complain about his pay as his films sell for a 'certain amount of money.'
"I can't complain about my pay and I know that. That's because my films sell for a certain amount of money whereas other actors sell for a different amount. Obviously, that should not be the case and the audience should view a film for its content, regardless of whether it is female-driven or male-driven. Unless that happens, you are paid for your viability. But if somebody is getting paid less than what they deserve, based on their commercial viability, that can be a problem," Shahid told
DNA
.
Rangoon
, a period piece, casts Kangana Ranaut as an action star of the 1940s named Julia. Shahid plays a soldier in the film while Saif plays the role of a filmmaker.
Rangoon
is reportedly inspired by the Hollywood film
Casablanca
and is scheduled to release in October this year.