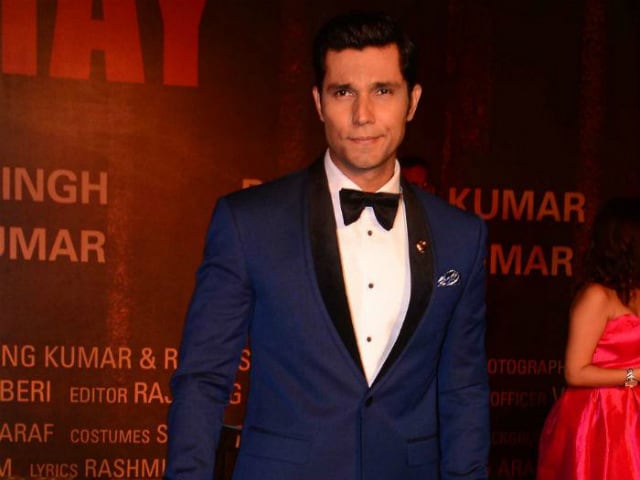 Highlights
Randeep Hooda was last seen in Sarbjit in which he played the protagonist
"I like the process of preparation more than executing it," said Randeep
"My aim in life is not just to see myself on screen," he added
Bengaluru:
Actor Randeep Hooda, who is getting
rave reviews
for his portrayal of Sarabjit Singh in
Sarbjit
, feels that his best role is yet to come.
Directed by Omung Kumar,
Sarbjit
is based on the real-life story of Sarabjit Singh, an Indian villager, who was convicted for spying and terrorism and languished in a Pakistani jail for several years while his sister Dalbir Kaur, tried vigorously to secure his release. He was attacked by inmates at a prison in Lahore in April 2013 and died a few days later.
"Of course, it (playing Sarabjit on screen) has been my most Herculean task. I am glad people are appreciating it. But as an artiste, I would say that my best role is yet to come," Randeep told IANS at an event held in Bengaluru to celebrate World Whiskey Day.
Known for playing character-driven roles, Randeep said that he enjoys the process of preparing for the film more than executing it.
"I like the process of preparation and rehearsal more than executing and watching it. That is the real life experience, rest is just execution," he said.
The actor also said that he doesn't aim to just win awards.
"My aim in life is not just to see myself on screen or get awards or to be featured in magazines. I am not too materialistic either. It is the life experience I get by involving myself in somebody else's point of view, situation and life, and understanding another human being," he added.
Randeep also shared that he has "learned more through my movies than I ever learned in school".
"To be able to live different lives without the real life repercussions is the perk of my job," he added.
The
Highway
star also said that he feels fortunate to play these varied characters in various genres.
As far as success is concerned, Randeep said there is no measure to check it.
"One never knows if one has truly succeeded. Larger opinion of people has to be taken into consideration. Personally, I feel that I could have done this (role) better or something could be changed," he added.