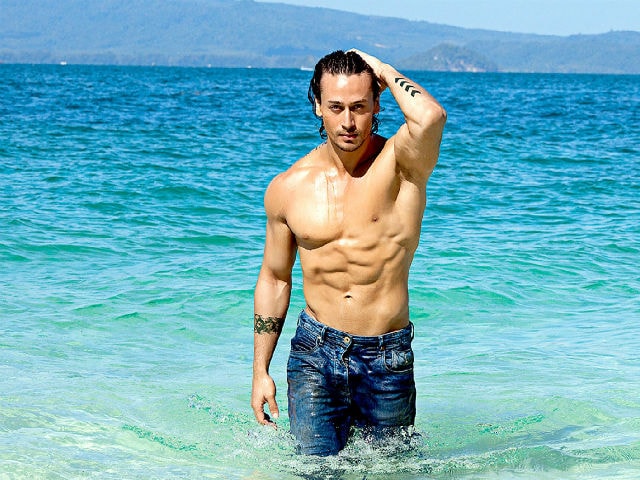 Highlights
RGV shames Tiger for posing in a still from his film Baaghi
'Truly real men like Bruce Lee don't pose in an Urmilaish way,' wrote RGV
Tiger is the son of Jackie Shroff, who stars in RGV's Sarkar 3
New Delhi:
In a contest of offensive tweets between filmmaker Ram Gopal Varma and self-appointed critic Kamaal R Khan, it would be difficult to pick a winning troll. The default setting of RGV's Twitter personality is plainly 'rude' and his latest target is actor
Tiger Shroff
, whose birthday it was yesterday. RGV trolled the birthday boy with a series of tweets, each more insulting than the other. Tiger, now 27, is the
son of actor Jackie Shroff
, who stars in
Ram Gopal Varma's new film Sarkar 3
. In his tweets, RGV shames Tiger, a martial arts enthusiast, for posing in a still from his film
Baaghi
like a 'bikini babe' and advises him to learn 'machoism' from his father. "Truly real men like Bruce Lee and Jackie Shroff don't ever pose in an Urmilaish way," wrote RGV, managing in one fell tweet to insult both Tiger Shroff and actress Urmila Matondkar who RGV directed in films like
Kaun
and
Bhoot
.
@iTIGERSHROFF U are great at martial arts but if BRUCE LEE ever posed like a bikini babe like u he wouldn't hav bcm BRUCE LEE..Please think pic.twitter.com/4Y8jvOP77T

— Ram Gopal Varma (@RGVzoomin) March 2, 2017
@iTIGERSHROFF Please learn machoism from @bindasbhidu who even without martial arts poses more like a man and never like this pic.twitter.com/4NzLg3cjUZ

— Ram Gopal Varma (@RGVzoomin) March 2, 2017
@iTIGERSHROFF u might have a six pack of muscle groups better than @bindasbhidu but his eyes and body language have far better many groups pic.twitter.com/aKZMV4YgOW

— Ram Gopal Varma (@RGVzoomin) March 2, 2017
@ITigershroff Truly real men like Bruce Lee and @bindasbhidu don't ever pose in a Urmilaish way pic.twitter.com/Y2GA00Bqw0

— Ram Gopal Varma (@RGVzoomin) March 2, 2017
There was also an attempt to buy himself some insurance against his graceless comments:
Hey @bindasbhidu all my tweets on @iTIGERSHROFF are purely as ur fan and not otherwise ..please tell this to @AyeshaShroff and him pic.twitter.com/9a53ogH4b9

— Ram Gopal Varma (@RGVzoomin) March 2, 2017
Ram Gopal Varma'
s early cinematic achievements - he made
Satya
and
Rangeela
- have all but been eclipsed by his recent work (notable failures include his remake of
Sholay
) and his activities on Twitter, where he often rants against colleagues, sometimes for days. He recently trolled Telugu superstar Chiranjeevi over a poster of his film
Khaidi No 1
and has engaged in battle with filmmaker Anurag Kashyap, a former protege.
In a rare moment of humility, RGV said at the launch of the trailer of
Sarkar 3
that he r
egrets most of the films he has made with Amitabh Bachchan
. "Except for
Sarkar
, I regret all the films. We created the best of franchise with this... Many directors including me take him for granted and we get confused with the actor, the superstar and the image. I almost regret every character," he said, reported news agency PTI.
The moment appears to have passed.
Jackie Shroff stars with
Mr Bachchan
in
Sarkar 3
, opening on April 7. Tiger Shroff is currently busy shooting for his next film
Munna Michael
, opposite Sana Saeed.