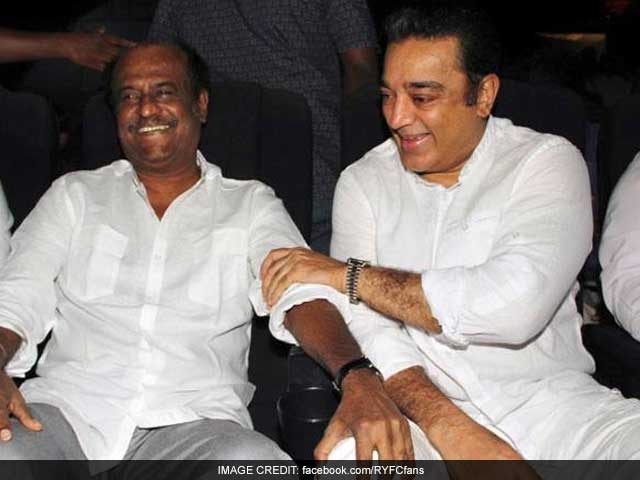 Highlights
The actor was addressing press on protests against ban on Jallikattu
The two stars featured in several hit films as hero and villain
Their last film together was the Hindi Geraftaar in 1985
New Delhi:
At a time when box office worth is measured in crores, a film starring more than one cinematic titan is the sort of dream scenario producers shake their heads wistfully over. As Tamil superstar Kamal Haasan said in Chennai today, "Rajini and I can act together but who could afford us?" The 62-year-old was addressing the press on
protests against the ban on Jallikattu
. Time was when Rajinikanth, 65, and Kamal Haasan used to make movies together - in fact, they starred in several hit films as hero and villain, beginning with Rajinikanth's 1975 debut
Apoorva Raagangal
. Their last film together was the Hindi
Geraftaar
in 1985, also starring Amitabh Bachchan - a repeat of
Geraftaar
or of Apoorva Ragangal would take require pockets of the deepest sort because the actors fees, Rajinikanth's especially ever since he moved from villainous to lead roles, have multiplied exponentially.
Rajinikanth,
Kamal Haasan
and other Tamil stars like Vijay and Suriya are among the South film industry's highest paid actors, charging between Rs 20 to Rs 40 crores for a film - Rajinikanth was reportedly paid in the region of Rs 50 crores for his 2010 blockbuster
Enthiran
. His salaries for
Sivaji: The Boss
and Enthiran reportedly made him the second highest paid Asian actor after Jackie Chan for a while.
Forbes India
reported Rajinikanth's earnings last year as Rs 35 crores, reportedly for Kabali, a third of the film's stated budget of Rs 110 crores. Kamal Haasan's pay cheques are also hefty, if not as much as Rajinikanth's. He was reportedly the first actor to be paid a crore for a film, way back in 1994, and is now believed to charge over Rs 20 crores.
Their films don't always pull in the money.
Kabali's worldwide collection
is an estimated Rs 650 crores but
Rajinikanth
's previous films -
Lingaa
and
Kochadaiyaan
- made barely a dent in the box office. Kamal Haasan's last major film, 2013's Vishwaroopam, made around Rs 250 crores worldwide.
However, an addendum to Mr Haasan's statement today is required - a producer rich enough potentially exists because Rajinikanth is reportedly not the highest paid actor in his next film,
2.0
. His co-star, Bollywood actor Akshay Kumar,
plays the villain in the sequel to Enthiran
and several reports suggest that it is Akshay who is being paid more.