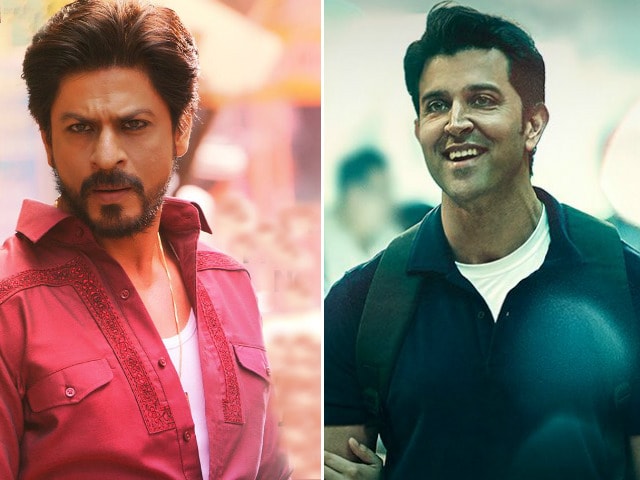 Highlights
Instead of Khan vs Khan, it will be SRK vs Hrithik
Raees was supposed to clash with Salman Khan's Sultan
Raees and Kaabil both release tomorrow
New Delhi:
The impending showdown between
Shah Rukh Khan's Raees
and Hrithik Roshan's
Kaabil
is upon us. The story of this particular box office clash began with another that was eventually averted -
Raees
vs
Sultan
was to have occupied attention, screen space and headlines last year, but didn't. Instead of Khan vs Khan,
it will be SRK vs Hrithik
, actors who co-starred in
Kabhi Khushi Kabhie Gham
and claim to share a warm friendship. The films will meet each other after a fraught few months in which negotiations between producers failed and in which the dates and then the release times of the films were adjusted so it would be a head-on collision. Here's a recap.
In February 2015,
Raees
announced it would release on the Eid weekend of July 2016. Trouble was, Eid was already booked by Salman Khan's
Sultan
. In the June of 2015,
Raees
producer Ritesh Sidhwani insisted in tweets that there would be no date change. However, there were whispers of
Raees
deciding to make way for
Sultan
. In April 2016, this was confirmed. "Eid belongs to Salman," said Shah Rukh Khan -
Raees
' new date was stated as January 26, 2017. This caused surprise - the logical choice would have been Diwali, the festival that is usually reserved for an SRK film, as Eid is for Salman and Christmas for Aamir. Diwali appeared to have been passed over to circumvent
Raees
having to compete with Karan Johar's
Ae Dil Hai Mushkil
(featuring an SRK cameo) and Ajay Devgn's Shivaay. The Republic Day weekend of 2017 it was to be, a date that two other films had already ticked - Ajay Devgn's Baadshaho rescheduled itself,
Hrithik Roshan's Kaabil
didn't.
Forbes India
recently described the clash as a 'phony war' and 'nonsense,' and nonsense it is or should be. There are a handful of holidays in the calendar, far outnumbered by the number of big Bollywood films produced yearly and, as such, it shouldn't surprise anyone that more than one producer wants to cash in. The idea is that more people will have the time to watch films on offer, and more time in which to do it in. "Indian exhibitors insist there is always room for launching two major Hindi titles on the same day and are confident both will achieve their full earning potential with one caveat: it will take a bit longer than would have been the case if they were solo releases," said Forbes. This big bang theory works but not always - while there have certainly been times when two films have released together and done well (SRK's
Jab Tak Hain Jaan
and Ajay Devgn's
Son Of Sardar
, for instance), there has been a clear winner and loser in more cases than one.
The last of these involved Hrithik Roshan, whose film
Mohenjo Daro
tanked against Akshay Kumar's
Rustom
when both released in August 2016. Shah Rukh Khan has seen the action from both sides: his 2015 release
Dilwale
competed with director Sanjay Leela Bhansali's
Bajirao Mastani
and the collections for SRK's film weren't noticeably larger than its rival's, considered the smaller film. In terms of ratings,
Bajirao Mastani
was much better reviewed than
Dilwale
and, later, awarded. It was a reversal of fortune from 2007, when Sanjay Leela Bhansali's Saawariya took a beating at the box office from SRK's
Om Shanti Om
.
Numbers apart, the clash between
Raees and Kaabil
appears to be rooted in emotion and played out in a cat and mouse game of date change announcements. Just a couple of days before the trailer of Raees was unveiled last December, Team Kaabil said they would bring their release forward to the evening of January 25. At the launch of the Raees trailer, SRK revealed that his film would also advance their release to the morning of January 25, calling the date change 'logical.' Hrithik's father, Kaabil's producer Rakesh Roshan, was publicly furious. Last week, in what appeared to be endgame, Kaabil announced that it too would open on the morning of the same day, taking the fight to Raees.
Shah Rukh Khan and Rakesh Roshan go back a long way, to 1995 when Mr Roshan directed SRK and Salman Khan in Karan Arjun, a film that Hrithik was assistant director on. Mr Roshan also made 1997's Koyla with SRK. Speaking to NDTV about the clash last week, Hrithik said philosophically, "Who do you blame? Things happen" He also explained why his dad was so upset: "My dad has very carefully chosen the date on January 26, knowing this film would have been ready by October. Still he waited till January because he was seeing that we should not clash with somebody else's film. So let us not come on this person's date or that person's date. So let me make a date which is completely clear right now. So he picked January 26. He wants others to do unto him as he has done unto them. So when you don't get that, it's a bit of a surprise."
Video: Watch Hrithik Roshan on Raees vs Kaabil
Raees
co-stars Nawazuddin Siddiqui and Mahira Khan.
Kaabil
's cast includes Yami Gautam, Ronit Roy and his brother Rohit.