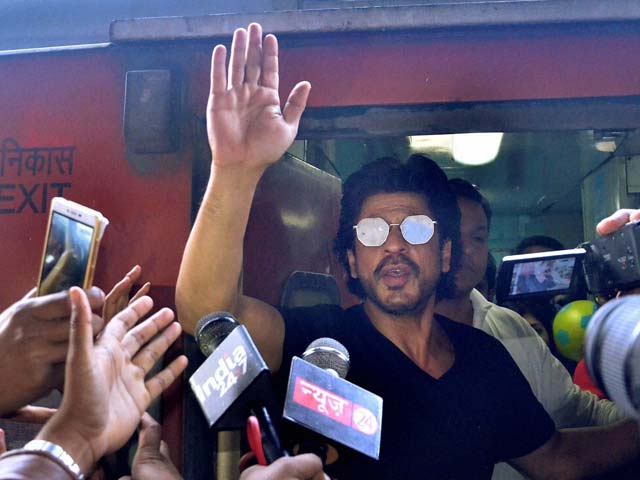 Highlights
SRK took the August Kranti Express from Mumbai Central to Delhi
He met fans in Vapi, Valsad, Surat, Sawai Madhopur, Mathura
SRK's Raees co-star Sunny Leone was also on the train
New Delhi:
On Monday,
Shah Rukh Khan boarded the August Kranti Express in Mumbai
for what was to be an eventful overnight journey to New Delhi to promote his new film
Raees
. It was both momentuous - SRK first travelled by train between these two cities when left his hometown in the Nineties to make it big in Bollywood - and familiar, courtesy the many films his public has seen him taking the train in. Putting SRK on a train seems an appropriate way to promote
Raees
, in which he plays a criminal, because both are a reflection of his early film roots - a return to the iconic train scene in
Dilwale Dulhania Le Jayenge
and the anti-hero characters he played in
Darr
and
Baazigar
.
Here's a recap of SRK's journey by rail for
Raees
.
It began Monday afternoon at Mannat, SRK's Bandra bungalow outside which he addressed the press before leaving for the station. "I was so excited and nervous because I was going to travel by train after a very long time, apart from one time with my kids," Shah Rukh Khan said.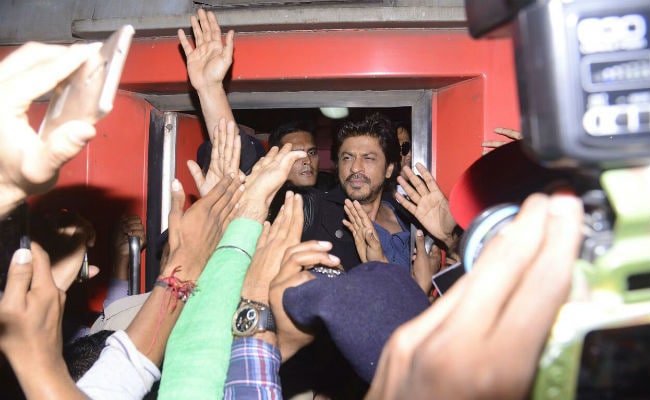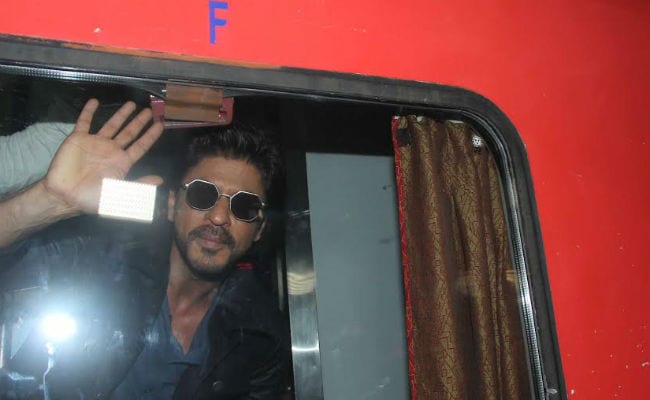 5.40 pm at Mumbai Central: For a few heart-stopping moments, it seemed that SRK, late as ever, wouldn't make it. But even superstars have to stick to the timetable - he boarded with minutes to spare, escorted through the massive crowd that had come to see him off. "The train would have waited for me. Even if I hadn't got into the train I would have got on top and done
Chhaiya Chhaiya
," he told NDTV, referring to his train-top song from the film
Dil Se
.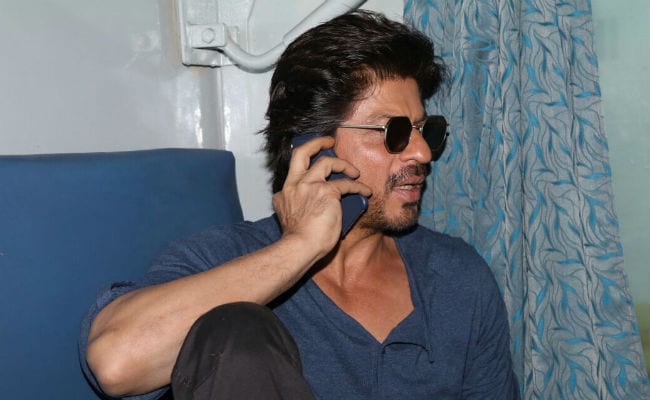 On board, SRK settled in comfortably but said that he was missing his little son: "
I wish I had brought AbRam along with me
. Because he loves to travel. And he knows the whole team, he would have been comfortable.
He also related memories of traveling by train as a young man: "I have some nice memories which I cherish. I went to Agra on a train from my first salary. I have also told this story before that when the train enters Mumbai it gets converted into a local and one can't take a single birth per person. So the passengers scolded us. When I was Delhi then I used to travel by train very often and of course also in
DDLJ
" Of the
DDLJ
climax in which Kajol's character runs down the platform towards the train carriage that bears him away, SRK said, "We had very little time and we were running. I had no idea that this scene would become iconic."
7.42 pm at Vapi: SRK received a blockbuster welcome and distributed some gifts. He tweeted.
In Vapi Udi Udi jaaye... pic.twitter.com/JnrDqMI0F6

— Shah Rukh Khan (@iamsrk) January 23, 2017
8.05 pm at Valsad: Just 20 minutes to the next stop. Once more, there was SRK frenzy on the platform.
All lights and love in Valsad. Thank u for welcoming team Raees. pic.twitter.com/0xzP2zIRBE

— Shah Rukh Khan (@iamsrk) January 23, 2017
8.55 pm at Surat: The view from the train
Thank u Gujarat. This is so beautiful. Thanks for waiting for Raees Surat. pic.twitter.com/SL8bMGhdcg

— Shah Rukh Khan (@iamsrk) January 23, 2017
10.31 pm at Vadodara:
Tragedy. A man, believed to be a local politician, died
of what is believed to have been a heart attack after police used batons on the crowd. "It is extremely unfortunate that someone has died...my prayers are with his family. Our team was there all along, tragic that such an incident still took place," Shah Rukh Khan said later to reporters in New Delhi. Railway Minister Suresh Prabhu has ordered an investigation.
5.20 am at Kota: A young crowd had collected to see SRK.
Thank u all the students...the future of India to be here at the Kota station. All the girls especially...love u immensely & wish u the best.

— Shah Rukh Khan (@iamsrk) January 24, 2017
6.28 am at Sawai Madhopur: Shah Rukh Khan looked no worse for wear, despite having been up all night and waving to fans.
9.02 am at Mathura: Last stop.
10.45 am at Nizamuddin Station, New Delhi: Welcome, Shah Rukh Khan. If you can see him through the press of people.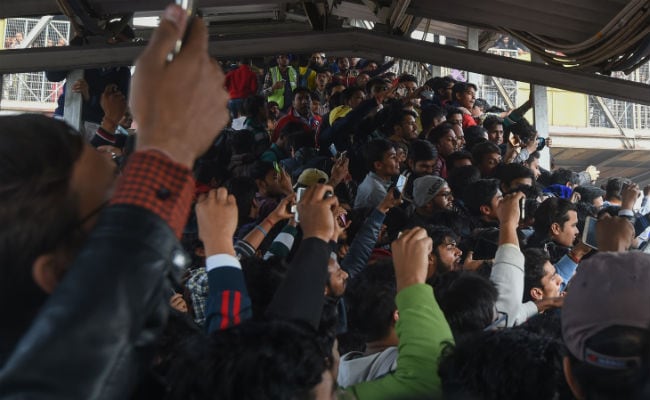 Somewhere along the way, a
ctress Sunny Leone was discovered to be onboard the train
. Sunny appears in a special song sequence in
Raees
, a remix of 1980 hit
Laila
from Zeenat Aman's film
Qurbani
.
Train ride!! Almost to the final stop! Most amazing journey! @RaeesTheFilm@DanielWeber99@yofrankay@911Yusufpic.twitter.com/IdeP5kG1F8

— Sunny Leone (@SunnyLeone) January 24, 2017
She tweeted video from Nizamuddin:
The train ride w/ @RaeesTheFilm team & @iamsrk is 1of my most memorable trips in India thus far!Will never forget!Srk fans u r so amazing! pic.twitter.com/X67MUcZzt7

— Sunny Leone (@SunnyLeone) January 24, 2017
Raees
releases on January 25 and will clash with Hrithik Roshan's
Kaabil
. The film co-stars Nawazuddin Siddiqui and Pakistani actress Mahira Khan.