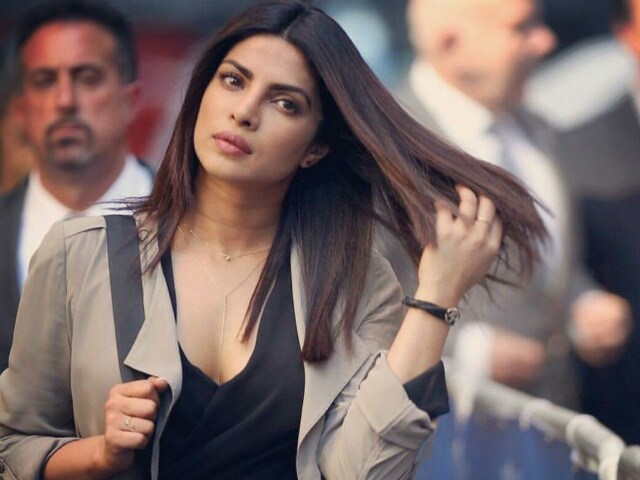 Highlights
The first episode of Quantico Season 2 aired in India on September 26
Priyanka will soon make her Hollywood debut with Baywatch
Priyanka is yet to announce her next Bollywood film
New Delhi:
The wait was finally over on Monday night when
Priyanka Chopra's Quantico Season 2
debuted in India. Some viewers were absolutely glued to the screen for half an hour starting 9pm while others were multitasking - live tweeting during the first episode of the second season.
Twitter was absolutely thrilled and so was Priyanka, who thanked viewers for joining her on her maiden episode of
Quantico
2.0.
Thank you for joining me to watch #QuanticoOnSW !whatever you do NOT miss the last 1 minute of each episode!Can't wait to do this every week

— PRIYANKA (@priyankachopra) September 26, 2016
Well... our job's done here then! Hahaha keep watching... there's so much more to come #QuanticoOnSWhttps://t.co/qSb5m1brdj

— PRIYANKA (@priyankachopra) September 26, 2016
Quantico season 2
premiered in the US on September 25. Minutes before the episode hit screens in India, Priyanka, clearly could not contain her excitement:
India! So thrilled for you guys to be watching it within a few hours of the US! 5 mins to go for #QuanticoOnSW... Lemme know what you think!

— PRIYANKA (@priyankachopra) September 26, 2016
awww you guys.... thank you so much for the can't wait for you to see #QuanticoOnSW tonight! https://t.co/I4RIsIoT4p

— PRIYANKA (@priyankachopra) September 26, 2016
Twitter was overwhelmed with Priyanka reprising her role as protagonist Alex Parrish.
me when i see @priyankachopra fight in heels !!!! PERFECTION !! #QuanticoOnSW. pic.twitter.com/x2pTwhlp4c

— Shaima Lov Piyanka (@missmimi755) September 26, 2016
Watching #QuanticoOnSW finally wait is over..grt start must say @priyankachopra 1stepisode pic.twitter.com/JEuKfubM8G

— Komal Agarwal (@Jst_Sunshine) September 26, 2016
@priyankachopra What a adrenalin pumping episode was that...! I dnt think I'm going to fall for sleep... #QuanticoOnSW

— AKASH (@asliakashs) September 26, 2016
@priyankachopra this episode went from zero to 100 in just minutes. My mind's already blown #QuanticoOnSW

— Raziq (@razlq) September 26, 2016
Oh my god! What a season premiere! #QuanticoOnSW#QuanticoSeason2 Monday nights are just so much better now! You rock @priyankachopra

— Jesal (@JesalDave5) September 26, 2016
@priyankachopra Nope, I cannot deal with this. Tell me what happens next already. Can't wait for another week,7days r too much #QuanticoOnSW

— RB. (@its_rupali) September 26, 2016
Priyanka enjoyed the show a half a day ahead of India and Instagrammed moments from the screening:
In the new season, Priyanka is also joined by Blair Underwood, famous as Jonathan Rollins of
L.A. Law
. Priyanka's Alex Parris is now a CIA agent.
She shared more details
in a tell-all tweet earlier this month. She promised dangerous enemies, who are "really, really bad" and "plenty of hot romance and sizzling secrets."
I'm excited to show you what Alex has been up to! @quanticotv returns Sunday at 10|9c on ABC. #Quanticopic.twitter.com/jeles1xwCv

— PRIYANKA (@priyankachopra) September 20, 2016
Meanwhile, Priyanka Chopra, 34, looked stunning in Jason Wu couture at the Emmy Awards, where she presented with actor Tom Hiddleston. Apart from her appearance, Priyanka and Tom's after-party flirting was also the subject of headlines. She also appeared on the Jimmy Fallon show recently and hosted the
Global Citizen Festival at New York's Central Park last week
.
Priyanka will soon make her Hollywood debut with
Baywatch
, as antagonist opposite Vin Diesel.
In India, Priyanka is producing Marathi film
Ventilator
through her Purple Pebbles Picture. She's yet to announce her next Bollywood film.