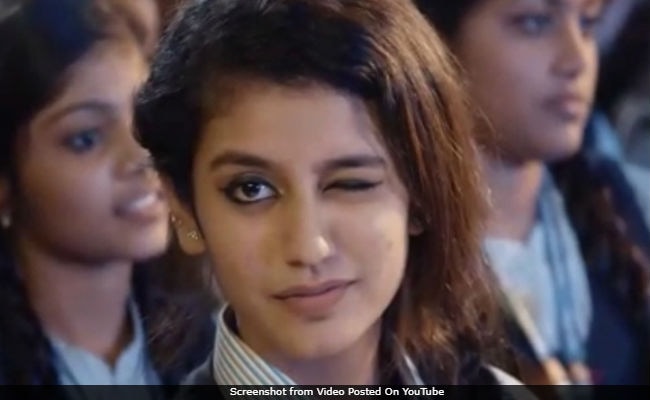 Highlights
"I never expected it to become such a big hit," said Priya
"The director wanted to capture something cute," she added
#PriyaPrakashVarrier has been trending on and off
New Delhi:
Malayalam actress
Priya Prakash Varrier became an Internet sensation last weekend with just a wink
. A video clip of Priya, from her upcoming film
Oru Adaar Love
, went insanely viral. However, the young actress says 'that the wink was spontaneous and she never thought that video clip would become such a hit.' In an interview to NDTV, Priya Prakash Varrier said, "Actually, the director wanted to capture something cute between me and my hero. So he told me if I can do the eyebrow thing and wink at him. I told him that I could give it a try. That's how it worked out. It was spontaneous and we hadn't planned anything."
The Internet was smitten with Priya's wink
. The viral clip is from a song titled
Manikya Malaraya Poovi
from the film
Oru Adaar Love
. In the song, Priya flirts with a fellow student (co-star Mohammed Roshan), who like everyone else, is overwhelmed by the wink and smile.
"I never thought this would become such a sensation. Everybody told me that it was good. But I never expected it to become a big hit," she added.
The viral clip sent the Internet into a meltdown. #PriyaPrakashVarrier has been trending on and off since a couple of days.
On being called the nation's new crush, Priya said, "I am very happy and exciting. So many people falling in love and all that, it's new but I'm very happy."
The Internet calls the viral clip a perfect Valentine's Day gift and some are actually reliving their high school romance days through it. But, for Priya, it's nothing like that. "As I am studying in a women's college now, it was really nice to have a gang full of people of my own age. We had fun on the set. I remember my mixed school education time at that moment," she said.
The official
Manikya Malaraya Poovi
clip has been watched over 14 million times (and counting on YouTube). Her Instagram account got verified and with just less than 100 posts, Priya has over 2.8 million followers now. Priya says, with such a response, she's a bit 'tensed.' "I'm tensed about that because it is a big responsibility now. People have a lot of expectations from me now. When the movie releases, I hope to keep up with the expectations and do my level best," concluded Priya.
Watch Priya Prakash Varriers' full interview here
.
Priya's Twitter is still not verified. "Thank you so much for the love and support," she tweeted on Monday.
Thank you so much for the love and support for #ManikyaMalarayaPoovi#OruAdaarLove. 4.3 Million views for YouTube & counting, 600k+ for me going bigger in Instagram. #MondayMotivation#PriyaPrakashVarrierpic.twitter.com/vKLLQKiho2

— Priya Prakash Varrier (@ppriyavarrier) February 12, 2018
Here are a few tweets about Priya's wink.
The most cute expressions I have ever seen...@priyapvarrier#priyaprakashvarrier
pic.twitter.com/4yzTVJvMcR

— Piyush Lawand (@piyush_lawand) February 11, 2018
Okay! India we need to talk #PriyaPrakashVarrierpic.twitter.com/tregcDk8MF

— Waqar (@Waqar_kTTk) February 12, 2018
Watch the song
Manikya Malaraya Poovi
here.
Oru Adaar Love
, directed by Omar Lulu, is scheduled to release on March 3.