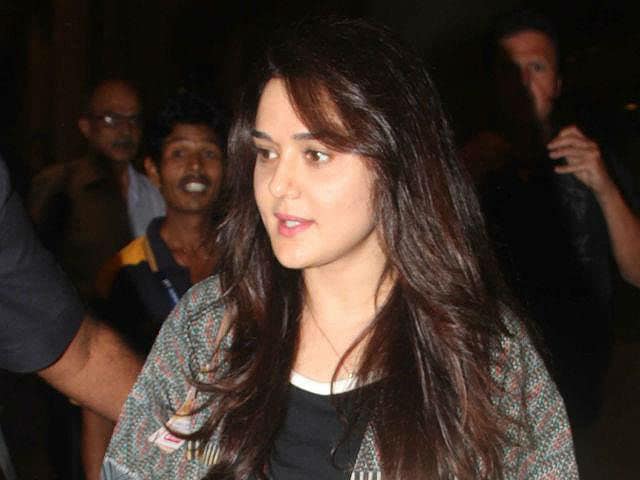 Highlights
Preity Zinta was "scared" by assembled photographers at the airport
Sure there is a polite way to ask for a photo, she tweeted
She also invoked an earlier mishap involving Aishwarya Rai's mother
New Delhi:
Actress Preity Zinta may have had a smooth flight back home but her exit from the city airport wasn't a cakewalk. The 41-year-old actress was "scared" by assembled photographers who tried to take pictures of her. Preity revealed her latest tryst with the paparazzi on Twitter:
Stepping out in Mumbai is not fun anymore; photographers just pounce on U ! No one politely asks 4 a photo anymore. They actually scare u

— Preity zinta (@realpreityzinta) October 10, 2016
Ok maybe it's silly to ask4 privacy - but what about etiquette & being polite ? Sure there is a polite way 2ask 4a photo instead of DHAVAA

— Preity zinta (@realpreityzinta) October 10, 2016
Preity's tweets invited backlash from the Internet but she was in no mood to give up:
People initially are desperate to get recognized but complain later ! https://t.co/BprGFT1X9q

— Randomthiswayy (@Randomthiswayy) October 10, 2016
U sound like an ignorant person ... I worked hard in life & fame is the after effect of it. That does not mean I should be punished4 it! https://t.co/fQ39t1p83A

— Preity zinta (@realpreityzinta) October 10, 2016
@realpreityzinta A celebrity asking not to be clicked in a public place is unrealistic, however unnerving. At a pvt place, justified

— Varun C Bhagath (@vcb_phoenixv) October 10, 2016
No body asks to be left alone at a Public event - that's silly ! But have a heart ! Give us some space to breathe ! https://t.co/xIWbMpzFBp

— Preity zinta (@realpreityzinta) October 10, 2016
#pzchat Of course not! Aah the bane of Journalism! They are entitled to know about your work , etc . https://t.co/NGcJgafxgp

— Sneha Mahecha (@snehamahecha) October 10, 2016
Then do an interview .... no issues... but don't push & irritate & provoke ! That's all I am saying ... we are human after all https://t.co/FeFSPlkEfd

— Preity zinta (@realpreityzinta) October 10, 2016
Then someone suggested an alternate travel destination:
@realpreityzinta Awww... I'm sorry to hear that... Perhaps you should come visit USA (D.C)... I promise you, it won't be that bad here <3 xo

— PsTheDancingQueen (@pari_shay) October 10, 2016
To this she said:
I'm only complaining cuz I almost fell down & was about to get a heart attack when suddenly people appeared from the dark... https://t.co/3cf0DW4u2L

— Preity zinta (@realpreityzinta) October 10, 2016
Some fans agreed with Preity and said she has a right to privacy, celebrity or not. Some also said that because she's a celebrity it's bound to happen. And Preity replied:
I don't mind anyone asking for a photo anywhere,except in a temple, swimming pool or bathroom ! Or if I am sleeping-other wise no worries https://t.co/LLc37fpwBM

— Preity zinta (@realpreityzinta) October 10, 2016
Find a hook & take it - just don't be a crook for it That's all I am saying https://t.co/mTSY2ncqZD

— Preity zinta (@realpreityzinta) October 10, 2016
Preity also invoked a recent incident when Aishwarya Rai Bachchan's mother Brinda Rai fell while exiting Mumbai airport with her daughter.
Last time Aishwarya's mom was pushed at the airport by photographers & she fell. Is dat justified cuz Ash is famous? Is work beyond Manners?

— Preity zinta (@realpreityzinta) October 10, 2016
Bollywood seems to be struggling for composure and equilibrium in the face of a rising paparazzi culture. Apart from Preity, celebs like Rani Mukerji, Akshay Kumar and Jaya Bachchan have also objected the paparazzi invasion.
In August,
Rani Mukerji reportedly yelled at photographer
who tried to take pictures of her eight-month-old daughter Adira. Rani, 38, snapped at the lensmen, demanding they stop snapping her young daughter. Adira, born to Rani and Aditya Chopra in December 2015, has been fiercely shielded from the public gaze so far. A picture purporting to be of her appeared on social media a month or so ago and
were later revealed to be a fake
.
Of particular concern is when, as here, photographers attempt to take pictures of the celebrity's young child or children. Akshay Kumar and Twinkle Khanna are careful to keep their three -year-old daughter Nitara's face hidden from waiting cameras as in these pictures taken of them.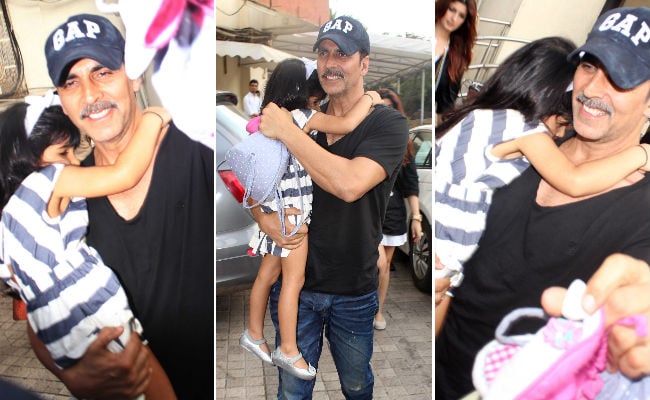 Aishwarya, whose daughter Aaradhya is a frequent travel companion, talked about the effect of being faced with a bank of cameras on her four-year-old. "Journalists can, of course, take photos. These are people we know and we are all from the industry, I know how it works. Sometimes, they don't mean to scare the child but in the ruckus, they start screaming and shouting. All this can be a little too much for the child," Aishwarya told
Hindustan Times
.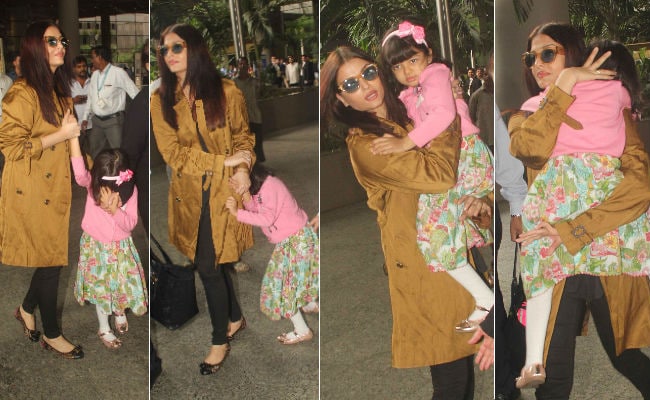 Speaking of a time Aaradhya was photographed throwing tantrums, Aishwarya said: "At one point when we were walking, she was in a great mood, even as people clicked pictures. She was laughing and saying something funny. But, when people started caving in, I had to pick her up because she is too tiny to handle all that. I had to steer my way through the crowd. It is just a protective instinct, I keep her close."
Recently, Jaya Bachchan too became quite enraged after the crowd at an art exhibition event in Mumbai refused to stop photographing her after being asked not to.