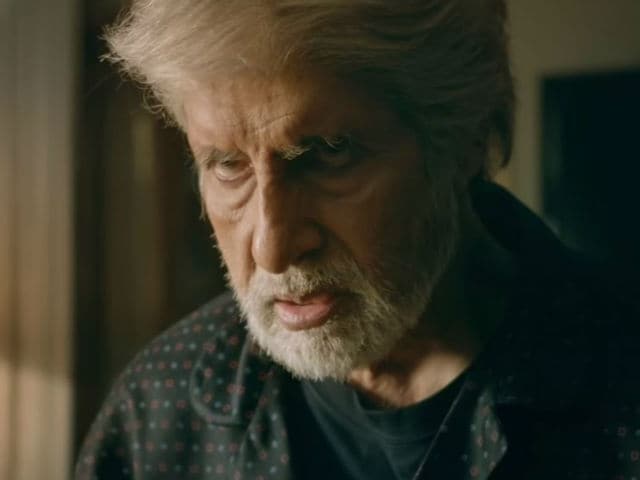 Highlights
Pink is a social thriller that reflects on dubious morals
The film is produced by Shoojit Sircar
Ajay Devgn, Dia Mirza praised Big B's film
New Delhi:
The trailer of Amitabh Bachchan's new film is painting social media
Pink
since Tuesday and the Internet simply can't stop thinking about it.
Bollywood celebs have shared their thoughts on and reactions to the trailer of
Pink
, produced by Big B's
Piku
helmer Shoojit Sircar.
Pink trailer is intriguing, goosebump-inducing
and left many speechless:
Everytime you think you know it all, this man @SrBachchan teaches you something new. Pink cud have never suited anybody so well #PinkTrailer

— Ajay Devgn (@ajaydevgn) August 10, 2016
Wow, riveting!! #PinkTrailer Can't wait to watch this one @SrBachchan Well done @ShoojitSircar and team #Pinkhttps://t.co/oJgWqNVHbJ

— Diana Penty (@DianaPenty) August 9, 2016
Goosebumps #PinkTrailerhttps://t.co/nWFt0HSwkU

— Dia Mirza (@deespeak) August 9, 2016
You guys #PinkTrailer@taapsee@Imangadbedi@KirtiKulhari

— Aditi Rao Hydari (@aditiraohydari) August 9, 2016
Lovedddd the trailer of #Pink .. Can't wait to see it.. @SrBachchan@ShoojitSircar@tapseepannu

— Genelia Deshmukh (@geneliad) August 10, 2016
PINK - outstanding trailer- @SrBachchan@taapsee@ShoojitSircar -simply magical. https://t.co/cqycjcDf33

— Riteish Deshmukh (@Riteishd) August 10, 2016
@ShoojitSircar loved the trailer shoojit ..#pink looks fabulous !!

— Mini Mathur (@minimathur) August 9, 2016
#PinkTrailer is hard hitting. Legend @SrBachchan, brill @taapsee. Salute @ShoojitSircar@aniruddhatony@ronnielahirihttps://t.co/AWkC5HirmP

— Ayushmann Khurrana (@ayushmannk) August 9, 2016
Damn! That looks amazing! I want to watch #Pink, right now! @SrBachchan@ShoojitSircar@taapsee@AndreaTariang Wow! https://t.co/a2H59dwEiE

— VISHAL DADLANI (@VishalDadlani) August 9, 2016
#PINK is looking extremely interesting n unable to wait for it.@SrBachchan take a bow Sur.@ShoojitSircar n @aniruddhatony great job done

— Prosenjit Chatterjee (@prosenjitbumba) August 9, 2016
Loved the trailer of #Pink . Totally makes you want to see this film . @taapsee way to go girl ! @SrBachchan as always Brilliant !

— Jackky Bhagnani (@jackkybhagnani) August 9, 2016
Celebrities aren't the only ones impressed, as this tweet from Amitabh Bachchan shows:
T 2344 -"Uncle the trailer of Pink is good." #PinkTrailer comment

— Amitabh Bachchan (@SrBachchan) August 10, 2016
Pink
features
Big B as a lawyer who goes up against three women
(played by Taapsee Pannu, Kirti Kulhari, Andrea Tariang), being tried for extorting money from the men they accused of sexual assault.
Pink
is director Aniruddha Roy Chowdhury's first Bollywood film. He has previously made Bengali films like
Anuranan
,
Antaheen
and
Aparajita Tumi
.
Watch the trailer, if you haven't already:
The film will release on September 16.