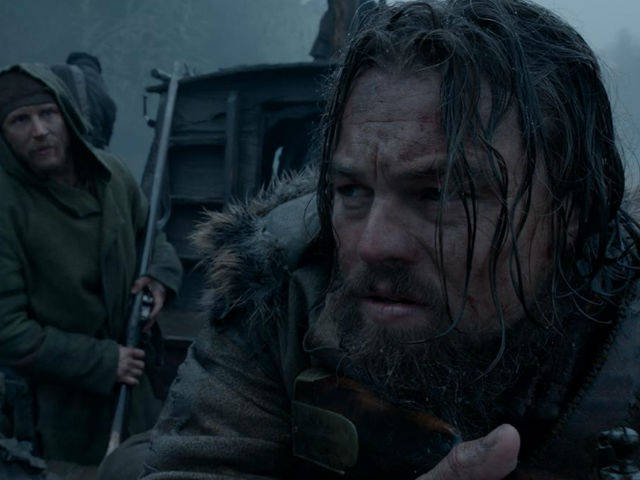 Los Angeles:
The Revenant,
a harrowing survival thriller starring Leonardo DiCaprio as a 19th century fur trapper, topped the Oscars nominations list on Thursday with 12 nods, including for best picture, actor and director. (
See Pics
)
In second place was dystopian action film
Mad Max: Fury Road
, with 10 nominations, followed by space blockbuster
The Martian
, about an astronaut stranded on the Red Planet, with seven. (
Complete List of Nominees
)
The nominations, announced at a pre-dawn ceremony in Beverly Hills organized by the Academy of Motion Picture Arts and Sciences, sent Hollywood's annual awards season into high gear.
The race is now on for the coveted Oscars, to be handed out on February 28.
The Revenant
was directed by Alejandro Gonzalez Inarritu, who also helmed last year's big Oscars winner
Birdman
, which earned four golden statuettes including for best picture and director.
Should Inarritu win again this year for
The Revenant
, he will be joining just two other directors -- Joseph Mankiewicz and John Ford -- who won the award for two consecutive years.
Academy president Cheryl Boone Isaacs described
The Revenant
as a "cinematic masterpiece," in comments to reporters.
Beyond the top three films on the nominations list, the other contenders for best picture are
The Big Short, Bridge of Spies, Brooklyn, Room
and
Spotlight
.
Cold War thriller
Bridge of Spies
, lesbian romance
Carol
and
Spotlight
-- about journalists from The Boston Globe who uncovered sexual abuse in the Catholic Church, each earned six nominations.
Leo's year?
Leonardo DiCaprio, who earned his fifth Oscar acting nod for his portrayal of frontiersman Hugh Glass in
The Revenant
, is widely seen as the favorite to take home his first Academy Award.
His competition is fairly stiff: others in the best actor category are Bryan Cranston for
Trumbo
, Matt Damon for
The Martian
, Michael Fassbender for
Steve Jobs
and Eddie Redmayne -- an Oscar winner last year -- for
The Danish Girl.
For best actress,
Carol
star Cate Blanchett and
Room
star Brie Larson, who portrayed a kidnapped mother living in captivity with her son, are seen as the favorites in a category that also includes veteran British actress Charlotte Rampling (
45 Years
).
Sylvester Stallone -- widely seen as a sentimental favorite -- received a nod for best supporting actor for
Creed
, in which he reprised his iconic role of boxer Rocky Balboa.
The 69-year-old Stallone will be vying against Tom Hardy, nominated for
The Revenant
, Mark Ruffalo for
Spotlight,
Christian Bale for
The Big Short
and Mark Rylance for
Bridge of Spies
.
#OscarsSoWhite
There were no black actors nominated in any of the top categories, and the hashtag #OscarsSoWhite -- used in the past to criticize the lack of diversity among the nominees -- quickly trended on Twitter.
Boone Isaacs, the Academy president, said: "We have been actively bringing in more diversity into our membership. Actions need to be taken to make sure the industry as a whole is more inclusive."
Tim Gray, the awards editor for industry magazine Variety, said while he felt the nominations were 'a good list,' he lamented some snubs, including for black actor Will Smith in NFL drama "Concussion."
"The Academy people don't vote by race or gender but it's the studios that need to fix this by better reflecting the populations," Mr Gray told AFP.
Some 6,000 members of the Academy, all of them who work in the film industry, vote for the films, actors and directors that will be vying for an Oscar.
Surprises and snubs
The Martian
director Ridley Scott did not make the short list, but he was overlooked, as was
Carol
director Todd Haynes.
Many thought Michael Keaton, a best actor nominee last year for
Birdman
who was defeated by Eddie Redmayne, might score a nomination this year for
Spotlight,
but he was snubbed.
Among the foreign films nominated were Hungarian Holocaust drama
Son of Saul
, Jordan's
Theeb
and Colombia's
Embrace of the Serpent
and
Mustang
, a French production about five Turkish sisters living in subjugation.
Here are the complete list of nominees:
Best Picture
The Big ShortBridge of SpiesBrooklynMad Max: Fury RoadThe MartianThe RevenantRoom
Spotlight
Best Director
Adam McKay,
The Big Short
George Miller,
Mad Max: Fury Road
Alejandro G Inarritu,
The Revenant
Lenny Abrahamson,
Room
Tom McCarthy,
Spotlight
Best Actress
Cate Blanchett,
Carol
Brie Larson,
Room
Jennifer Lawrence,
Joy
Charlotte Rampling,
45 Years
Saoirse Ronan,
Brooklyn
Best Actor
Bryan Cranston,
Trumbo
Matt Damon,
The Martian
Leonardo DiCaprio,
The Revenant
Michael Fassbender,
Steve Jobs
Eddie Redmayne,
The Danish Girl
Supporting Actor
Christian Bale,
The Big Short
Tom Hardy,
The Revenant
Mark Ruffalo,
Spotlight
Mark Rylance,
Bridge of Spies
Sylvester Stallone,
Creed
Supporting Actress
Jennifer Jason Leigh,
The Hateful Eight
Rooney Mara,
Carol
Rachel McAdams,
Spotlight
Alicia Vikander,
The Danish Girl
Kate Winslet,
Steve Jobs
Foreign Language Film
Embrace of the Serpent (
Colombia)
Mustang
(France)
Son of Saul
(Hungary)
Theeb
(Jordan)
A War
(Denmark)
Animated Feature
Anomalisa
Boy and the World
Inside Out
Shaun the Sheep Movie
When Marnie Was There
Film Editing
The Big Short
Mad Max: Fury Road
The Revenant
Spotlight
Star Wars: The Force Awakens
Production Design
Bridge of Spies
The Danish Girl
Mad Max: Fury Road
The Martian
The Revenant
Adapted Screenplay
The Big Short
Brooklyn
Carol
The Martian
Room
Original Screenplay
Bridge of Spies
Ex Machina
Inside Out
Spotlight
Straight Outta Compton
Original Score
Bridge of Spies
Carol
The Hateful Eight
Sicario
Star Wars: The Force Awakens
Original Song
Earned It, 50 Shades of Grey
Manta Ray, Racing Extinction
Simple Song #3, Youth
Til It Happens to You, The Hunting Ground
Writing's On the Wall, SPECTRE
Visual Effects
Ex Machina
Mad Max: Fury Road
The Martian
The Revenant
Star Wars: The Force Awakens
Cinematography
Carol
The Hateful Eight
Mad Max: Fury Road
The Revenant
Sicario
Documentary Short Subject
Body Team 12
Chau Behind the Lines
Claude Lanzmann
A Girl in the River
Last Day of Freedom
Documentary Feature
Amy
Cartel Land
The Look of Silence
What Happened, Miss Simone?
Winter on Fire: Ukraine's Fight for Freedom
Costume Design
Carol
Cinderella
The Danish Girl
Mad Max: Fury Road
The Revenant
Sound Editing
Mad Max: Fury Road
The Martian
The Revenant
Sicario
Star Wars: The Force Awakens
Sound Mixing
Bridge of Spies
Mad Max: Fury Road
The Martian
The Revenant
Star Wars: The Force Awakens
Makeup & Hairstyling
Mad Max: Fury Road
The 100-year-old Man Who Climbed Out a Window and Disappeared
The Revenant
Live Action Short Subject
Ave Maria
Day One
Everything Will Be Okay
Shok
Stutter
Animated Short Film
Bear Story
Prologue
Sanjay's Super Team
We Can't Live Without Cosmos
World of Tomorrow