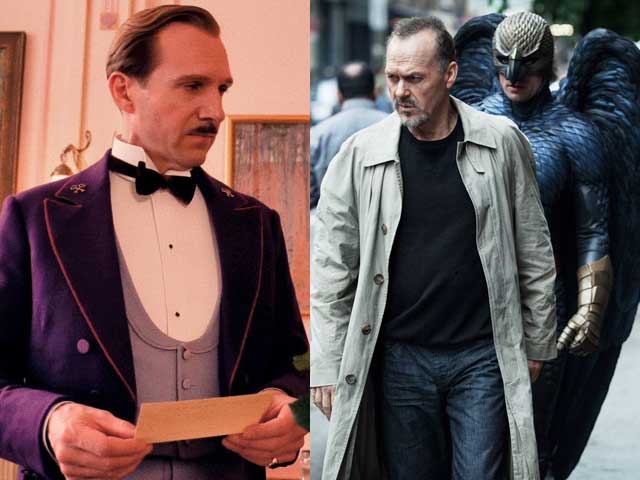 New Delhi:
The nominations for the granddaddy of awards, the Oscars, were announced in a two-part ceremony today.

Eight films were nominated for Best Picture. The Grand Budapest Hotel and Birdman led the nominees list with nine nods each. In Pics
The Imitation Game, Boyhood and American Sniper also have multiple nominations.
The nominees list contained few surprises. The major upsets were Jennifer Aniston who failed to score a Best Actress nod for Cake, David Oyelowo who was overlooked for Best Actor for playing Martin Luther King, Jr in Selma, Golden Globe winner Amy Adams who wasn't nominated for Best Actress for Big Eyes, and Jessica Chastain who was passed over for a Best Supporting Actress nod for A Most Violent Year.
The redoubtable Meryl Streep was nominated for an Oscar for the 19th time, earning a Best Supporting Actress nod for her performance as a fairytale witch in Into The Woods. (Also Read: Meryl Streep Scores Her 19th Nomination)
It's a good year to be Alexandre Desplat, who was nominated twice for Best Original Score for his work on The Imitation Game and The Grand Budapest Hotel.

India is absent from the nominees list with A R Rahman failing to make it to the final five of either Original Score or Original Song. Sonu Niigam and Bickram Ghosh, who were on the longlist for their Jal score, are also absent from the nominee list.

The nominations were announced by directors Alfonso Cuaron and J J Abrams, actor Chris Pine and Academy President Cheryl Boone Isaacs.

Here are the nominees:

BEST FILM

Boyhood
Birdman
The Imitation Game
The Theory of Everything
The Grand Budapest Hotel
Selma
American Sniper
Whiplash

BEST DIRECTOR

Richard Linklater - Boyhood
Alejandro Gonzalez Anarritu - Birdman
Wes Anderson - Grand Budapest
Morten Tyldum - The Imitation Game
Bennett Miller - Foxcatcher

BEST ACTOR

Michael Keaton - Birdman
Eddie Redmayne - The Theory of Everything
Benedict Cumberbatch - The Imitation Game
Steve Carell - Foxcatcher
Bradley Cooper - American Sniper

BEST ACTRESS

Julianne Moore - Still Alice
Rosamund Pike - Gone Girl
Felicity Jones - The Theory of Everything
Reese Witherspoon - Wild
Marion Cotillard - Two Days, One Night

BEST SUPPORTING ACTOR

JK Simmons - Whiplash
Edward Norton - Birdman
Mark Ruffalo - Foxcatcher
Ethan Hawke - Boyhood
Robert Duvall - The Judge

BEST SUPPORTING ACTRESS


Patricia Arquette -
Boyhood
Emma Stone -
Birdman
Keira Knightley -
The Imitation Game
Meryl Streep -
Into The Woods
Laura Dern -
Wild
BEST CINEMATOGRAPHY
Birdman
The Grand Budapest Hotel
Ida
Mr Turner
Unbroken
BEST ORIGINAL SCREENPLAY
Boyhood
Birdman
Foxcatcher
The Grand Budapest Hotel
Nightcrawler

BEST ADAPTED SCREENPLAY
American Sniper
The Imitation Game
Inherent Vice
The Theory of Everything
Whiplash

BEST FOREIGN LANGUAGE FILM
Ida, Poland
Leviathan, Russia
Tangerines, Estonia
Timbuktu, Mauritania
Wild Tales, Argentina

BEST MAKEUP AND HAIRSTYLING
Foxcatcher
The Grand Budapest Hotel
Guardians of the Galaxy

BEST ORIGINAL SCORE
The Grand Budapest Hotel
The Imitation Game
Interstellar
Mr. Turner
The Theory of Everything

BEST COSTUME DESIGN
The Grand Budapest Hotel
Inherent Vice
Into the Woods
Maleficent
Mr. Turner

BEST DOCUMENTARY FEATURE
Citizenfour
Finding Vivian Maier
Last Days in Vietnam
Salt of the Earth
Virunga

BEST DOCUMENTARY (SHORT)
Crisis Hotline: Veterans Press 1
Joanna
Our Curse
The Reaper
White Earth

BEST FILM EDITING
American Sniper
Boyhood
The Grand Budapest Hotel
The Imitation Game
Whiplash

BEST ANIMATED FEATURE
Big Hero 6
The Boxtrolls
How to Train Your Dragon 2
Song of the Sea
The Tale of Princess Kaguya

BEST ORIGINAL SONG
Lost Stars, Begin Again
Grateful," Beyond the Lights
I'm Not Gonna Miss You, Glen Campbell: I'll Be Me
Everything is Awesome, The Lego Movie
Glory, Selma

BEST PRODUCTION DESIGN
The Grand Budapest Hotel
The Imitation Game
Interstellar
Into the Woods
Mr. Turner

BEST ANIMATED SHORT FILM
The Bigger Picture
The Dam Keeper
Feast
Me and My Moulton
A Single Life

BEST LIVE-ACTION SHORT FILM
Aya
Boogaloo and Graham
Butter Lamp
Paraveneh
The Phone Call

BEST SOUND EDITING
American Sniper
Birdman
The Hobbit: The Battle of the Five Armies
Interstellar
Unbroken


BEST SOUND MIXING
American SniperBirdmanInterstellarUnbrokenWhiplash
BEST VISUAL EFFECTS
Captain America: The Winter SoldierDawn of the Planet of the ApesGuardians of the GalaxyInterstellarX-Men: Days of Future Past