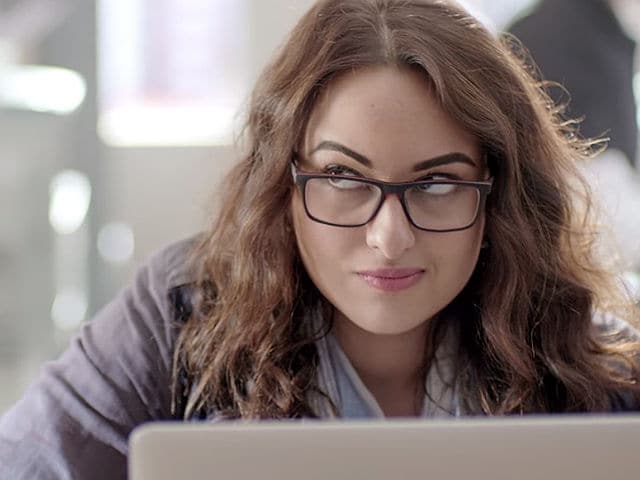 Highlights
Sonakshi Sinha's film is an adaptation of a Pakistani novel
Sonakshi plays a Mumbai-based journalist in Noor
The Sunhil Sippy-directed film will release on April 21
New Delhi:
Sonakshi Sinha shared the trailer of her upcoming
Noor
and like the actress promised earlier, her character Noor is like every/any other woman. Sonakshi, 29, plays the role of a journalist in the Sunhil Sippy-directed film, which is an adaptation of Pakistani novelist Saba Imtiaz's
Karachi, You're Killing Me!
. In the trailer, we are introduced to Noor, an
accident prone young woman who is a journalist
and who simply put, "Hates her life." She has an amazing friend (played by Kanan Gill) and a crush (played by Purab Kohli) around whom she can't help but show off and in turn makes a fool of herself. Noor wants to escape her office on her birthday but
she's assigned to interview Sunny Leone
. Everything seems normal and then it isn't. Noor is trouble and she must redeem herself.
Watch the trailer of Sonakshi Sinha's
Noor
:
During the trailer launch, Sonakshi Sinha said, "
Noor
is really close to my heart. When the story was narrated to me, the script and the character strongly appealed to me and from the first day of shoot till now, it has been such a fun and amazing movie to be a part of. It feels great to start 2017 with
Noor
."
Director Sunhil Sippy was all praises for Sonakshi and the rest of the cast and said, "Audiences will see Sonakshi in a completely different avatar. I can say without a doubt that this is her best work."
In 2016, Sonakshi Sinha was seen
Akira
, directed by A R Murugadoss and Abhinay Deo's
Force 2
. In
Akira
she played a confident college student who got into trouble with some rough cops. In the latter she played the role of a tough cop. Sonakshi proved her mettle with
Akira
and
Noor
will now enhance her portfolio, which boasts of strong, independent character roles.
Sonakshi earlier told news agency IANS that she'd like to do more films like
Akira
. She said: "Wonderful roles are being written keeping women in mind. Films are being made with a woman as the protagonist."
With
Noor
, it seems, Sonakshi is taking a step ahead in that direction.
Noor
releases on April 21.