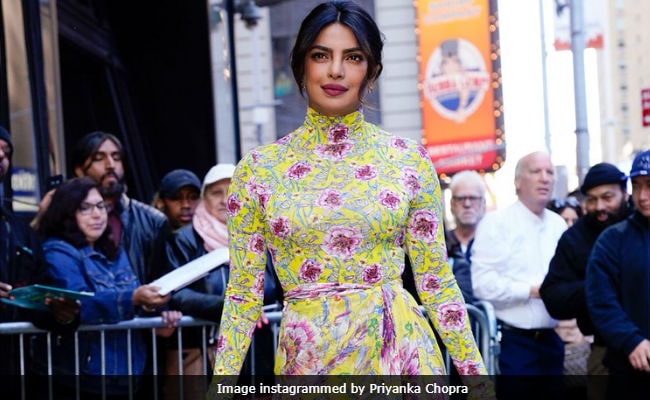 Highlights
Priyanka Chopra confirmed that she's not a bridesmaid
But she's attending the royal wedding on May 11
"I'm super excited about her and her big day," said Priyanka
New Delhi:
Priyanka Chopra confirmed that she's not on Meghan Markle's list of bridesmaids for her royal wedding scheduled for May 19. She told
People
magazine that she's "happy and excited" for
the former Suits star
, who is getting married to Britain's Prince Harry in the St George's Chapel in Windsor Castle. "Four of my friends are getting married in a span of a year... I'm very upset," Priyanka joked and then added: "I'm super excited about her and her big day. It's not just going to be life-changing for both of them, it's life-changing for the world that needs to see strong women as icons, and I think Meghan has the potential to be that."
Watch:
But does that mean she's not
attending the wedding
at all? The answer is, no. Earlier this week, Priyanka told
US Weekly
magazine that she will attend the royal wedding. When asked about what she'll wear to (what can arguably be called) the biggest wedding of 2018, Priyanka said: "I sort of may have an idea. But no, I haven't picked one out yet."
Priyanka Chopra, who is best known in the West for her role in television show
Quantico
, has been
friends with Meghan Markle for over a year
. This year, Meghan was on Time magazine's list of Most Influential People and Priyanka Chopra, 35, wrote an essay to accompany Meghan's mention. "Meghan, standing shoulder to shoulder with Harry, will be a princess for the people," Priyanka wrote.
Last year, Priyanka also famously defended Meghan Markle when a talk show host characterised her just as "Prince Harry's girlfriend." Priyanka added: "Also, Meghan Markle, actress,
Suits
, her achievements. Just saying."
The third season of Priyanka Chopra's
Quantico went on air on April 26. Her next Bollywood film is Bharat opposite Salman Khan.