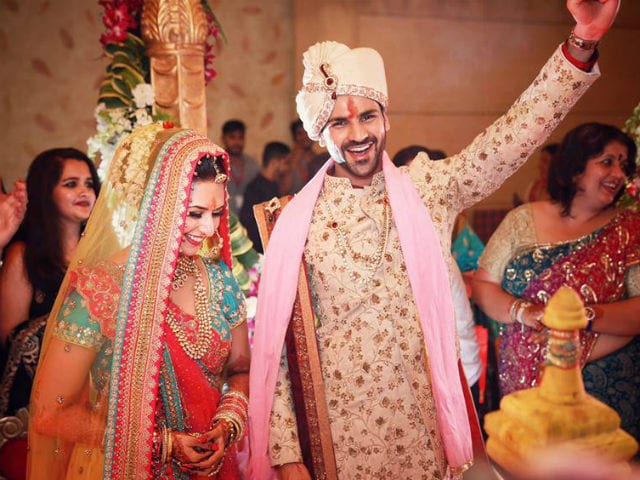 Highlights
Divyanka married Vivek in a traditional ceremony in Bhopal on July 8
'A person has to be truly blessed for such a union,' said Divyanka
Divyanka and Vivek are co-stars of Yeh Hai Mohabbatein
New Delhi:
Television actress Divyanka Tripathi married her
Yeh Hai Mohabbatein
co-star Vivek Dahiya
in Bhopal on July 8
. Newly-married Divyanka, who is on a 10-day break from work for the wedding, confessed that she was nervous about her wedding but later was at peace once reaching her hometown Bhopal. Divyanka and Vivek will continue the celebrations
with a reception in Chandigarh
, Vivek's hometown.
Divyanka also Instagrammed a selfie on Sunday introducing herself as the new bride and her husband Vivek:
In an interview with
The Times of India
, Divyanka said she experienced "wedding jitters" and that the wedding was not without glitches - her wedding dress was not delivered on time to be coordinated with Vivek's attire.
"I had wedding jitters when I was in Mumbai, but I was at ease once I reached Bhopal. I enjoyed all the rituals and danced the most. I am the happiest bride on earth," she said.
"My wedding dress wasn't delivered to me on time, so I couldn't coordinate it with Vivek's," Divyanka added.
Nevermind, for the duo looked nothing short of stunning at their wedding, pictures of which were shared on social media.
Divyanka, who was a traditional Indian bride in red
lehenga
-
choli
, revealed details about her fashion pick for the reception to
The Times of India
. (Hint: It appears, red is her favourite colour.) "My outfit for the reception will be red because I want to be a typical Indian bride. And what better than red for that? Besides, the colour also suits me," said Divyanka.
When asked about her decision to marry her co-star, Divyanka said that marrying someone from the same professional industry ensures a stable relationship. She also opened up about the kind of equation she intends to have with her partner and said she will never leave an argument unaddressed. Divyanka told
The Times of India
: "Earlier, I thought it would be better for an actress to marry a businessman or a person from other profession as it offers more stability. But then I realised that if I marry someone who doesn't belong to the same industry, he wouldn't understand my erratic schedules and also the norms of the glamour industry. You tend to relate to the other person better if you understand their professional needs."
"I won't sleep until I have resolved an issue with my husband. I can never lie to my partner. Even if the truth is harsh, I'll break it to my partner, but won't lie," she added.
Before signing off, Divyanka told
The Times of India
that she is not the least afraid about her marriage and that she feels lucky to have found Vivek as her life partner. Here's what she said: "Nothing scares me about marriage. It is beautiful to see two people in a lasting relationship. Every match is made in heaven and I feel lucky to find my life partner in a person with whom I'd love to spend my entire life. A person has to be truly blessed for such a union. Fortunately, I have seen only successful and motivating relationships around me that inspired me to get married. I am now looking forward to a happy married life with Vivek."
Divyanka's wedding was preceded by a
sangeet
on July 7, and a
haldi
and a
mehendi
on July 6. Divyanka looked beautiful in blue at her
sangeet
and was pretty in pink for her
mehendi.
She was gorgeous in a yellow
lehenga
-
choli
at her
haldi
ceremony.
Divyanka, 31, is currently playing the lead role in
Ye Hai Mohabbatein
while 31-year-old Vivek plays the protagonist in
Kavach...Kaali Shaktiyon Se
.