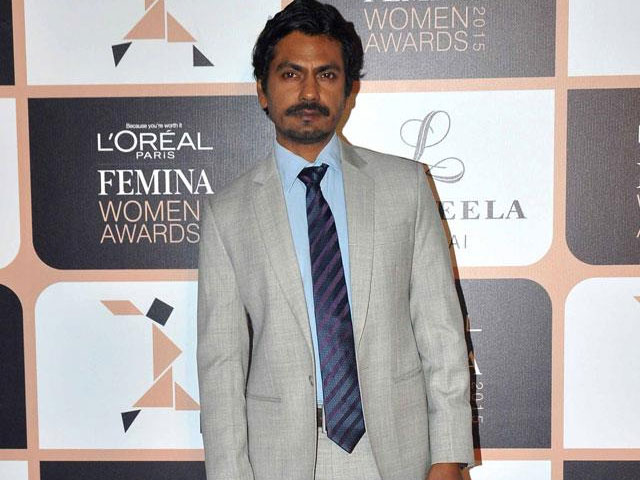 Indore:
Keen to surprise the audience with every film, Bollywood actor Nawazuddin Siddiqui said that he does not want to repeat his roles in movies.
"I don't want to repeat my characters or roles in my movies. I want that every character played by me should surprise the audience," said the 41-year-old actor, who was in Indore to promote his upcoming film
Manjhi - The Mountain Man
.
"When a role played by you is a hit in the movie, then opportunities to play similar characters keep coming. After the success of
Gangs of Wasseypur
I was in big trouble as many directors and producers wanted to present me as a gangster in their movies. But I maintained that I would not do those roles," he added.
Manjhi - The Mountain Man
is a biopic based on the life of Dashrath Manjhi, popularly known as the 'Mountain Man', who lived in Gehlaur village, near Gaya, in Bihar. He carved a road through a mountain in 22 years.
Directed by Ketan Mehta the movie also stars Radhika Apte and will release on August 21.
"Dashrath Manjhi is a character which every actor in this world will love to play," Nawazuddin said.
The
Kahaani
actor compared his character with Shah Jahan, who erected the historic monument Taj Mahal.
"The way Shah Jahan took 22 years to build the Taj Mahal in memory of his beloved wife Mumtaz, Dashrath Manjhi too took the same time and cut the mountain single-handedly, for his wife. The only difference between them is that Shah Jahan was rich enough to build the Taj Mahal but Manjhi was so poor that he only had a hammer to cut the mountain."
Recently, Bollywood megastar Amitabh Bachchan had expressed his desire to work with the actor. "Obviously it is good news that Mr Bachchan wants to work with me. I am also looking forward to share screen space with him soon," Nawazuddin said.