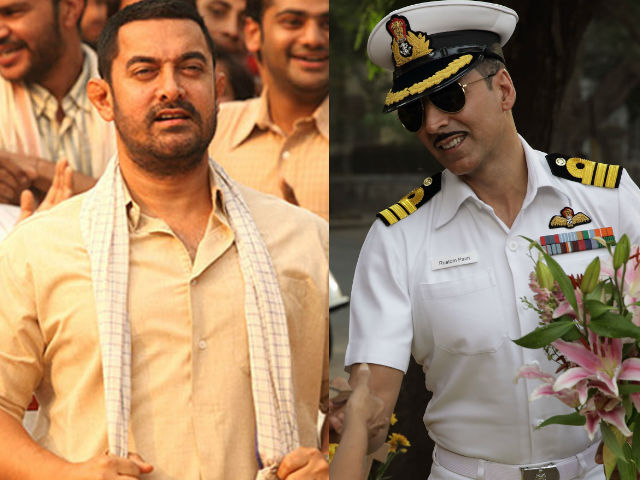 Highlights
Final choice for Best Actor was down to Akshay Kumar and Mohanlal
National Awards jury re-watched Dangal and judged it lacking
Priyadarshan chaired the National Awards jury
New Delhi:
Akshay Kumar's National Award win
has raised more than a few eyebrows on social media. Twitter is asking itself why the National Awards committee deemed
Akshay's performance as a naval commander accused of murder in Rustom
superior to that of Aamir Khan's as a middle-aged wrestler in
Dangal
. While announcing the National Awards in New Delhi on Friday, jury chairman Priyadarshan revealed that the final choice for Best Actor was down to Akshay Kumar and Mohanlal, who received a jury award. Akshay, it appears, was awarded for his body of work in
Rustom
and
Airlift
, specifically his "range from playing a real life character and doing a tailor-made role." Priyadarshan also revealed that the jury re-watched
Dangal
and judged it lacking. "I recalled
Dangal
saw it again but it missed because the regional films were brilliant," he said.
That now hallowed weight gain and then loss on Aamir Khan's part did not impress either. "It's not just someone looks right for the character, we cannot call him Best Actor. Mohanlal and Akshay have survived for so long, we thought it's good encouragement," Priyadarshan said.
Twitter is filled with as many posts asking why Aamir Khan was ignored as there are congratulating Akshay Kumar. Manoj Bajpayee's performance in
Aligarh
has also been cited as more National Award-worthy.
Akshay Kumar getting the #NationalFilmAwards instead of Aamir. This is how GEN category people feel everyday while competing with quota guys

— Pritam Verma (@tigerpritam) April 7, 2017
#NationalFilmAwards is a joke now! Didn't you see Aamir in dangal, SRK in fan! Even salman was better actor than AK this year!

— Dilwala (@Angoor_aadmi) April 7, 2017
National award to #AkshayKumar for rustom?It should be Aamir khan for his superb acting.
It's not easy to gain and lose weight in few months

— Ritika Sharma (@ritikasharma_) April 7, 2017
#NationalFilmAwards Why Akshay for Rustom? Why not Aamir for Dangal? At times I really think you guys are stoned

— shubham maloo (@shubhammaloo) April 7, 2017
Some tweets have joined dots between Akshay Kumar and Priyadarshan, who directed him in films like
Hera Pheri, Garam Masala
and
Bhagam Bhag
.
@Loneranger9@aamir_khan Because Jury Chairperson Priyadarshan is a good friend of Akshay kumar, already announced a remake of a malayalam film in hindi with Akshay

— St.Sinner (@retheeshraj10) April 7, 2017
Just a couple of months ago, Twitter was outraging on behalf of Akshay Kumar, when the Filmfare Awards nominees were announced - Akshay was very conspicuous by his absence in the Best Actor category, which included Salman Khan's performance in
Sultan
. Aamir Khan, who famously does not attend award shows, won.
Dangal
, one of 2016's biggest critical hits, scored a sole win at the National Awards - 16-year-old Zaira Wasim won Best Supporting Actress. Aamir's performance as an ageing, pot-bellied former wrestler and autocratic father of two daughters he trains in his own sport was widely hailed as his career-best work.
Dangal
had a record-shattering run at the box office.