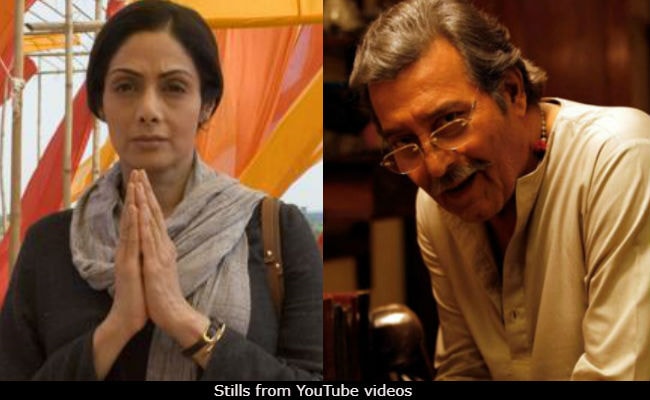 Highlights
Sridevi won Best Actress National Award for MOM
Vinod Khanna was honoured with the Dada Saheb Phalke Award
Best Actor National Award went to Ridhhi Sen
New Delhi:
The National Film Awards, announced in New Delhi today, posthumously awarded two icons of Indian cinema - Sridevi, who drowned in a Dubai hotel bathroom in February, won her first National Film Award for Best Actress for her performance in
MOM
,
the revenge thriller that was her swan song
; Vinod Khanna, who died last year, will receive the Dadasaheb Phalke award, India's highest film honour.
MOM
, in which Sridevi was cast as a mother bent on avenging the rape of her daughter, was her third film after returning to acting recently with
English Vinglish
and Tamil film
Puli
.
Assamese film
Village Rockstars
, in the Kamrupi dialect, won Best Feature Film and also the National Film Awards for Best Editing and Best Location Sound. Its young star Bhanita Das won Best Child Artiste.
Bhayanakam
won Best Director for Jayaraj, Best Adapted Screenplay and Best Cinematography. Best Actor National Film Award went to Riddhi Sen for the Bengali film
Nagar Kirtan
.
Divya Dutta won Best Supporting Actress for
Irada
. Fahad Fazil won Best Supporting Actor for
Thondimuthalum Driksakshiyum
which also won Best Malayalam Film and Best Screenplay.
Baahubali: The Conclusion
won Best Popular Film, Best Action and Best Special Effects; Best Choreography was taken by
Toilet: Ek Prem Katha
's song
Gori Tu Laath Maar
.
A R Rahman won Best Music Direction for director Mani Rathnam's
Kaatru Veliyidai
, and Best Background Score for
MOM
.
Kaatru Veliyidai
also won Best Female Playback Singer for
Sasha Thirupati
. Malayalam singer Yesudas won Best Male Playback Singer.
Feature film jury head Shekhar Kapur, who announced the National Film Awards, reserved words of praise for regional cinema. Mr Kapur, who hasn't made a film in India since
Bandit Queen
, said, "It's time to make a film in India because the standard of regional cinema is world beating."
Sinjar
, a film from Lakshadweep, won Best Jasari Film and Best Debut Film of a Director, receiving a special shout-out from Shekhar Kapur. Walking With The Wind won Best Ladakhi Film, which was also awarded for Best Sound.
Kachha Nimbu
won Best Marathi Film;
To Let
won Best Tamil Film; Rana Daggubati's
Ghazi
won Best Telugu Film;
Dhh
won Best Gujarati Film;
Hebbettu Ramakka
won Best Kannada Film.
Newton
won Best Hindi Film with a Special Mention for actor Pankaj Tripathi, who said later, "I am absolutely delighted. I had no idea I was even in the running. It feels amazing to know that the whole country thought my role in Newton was one of my best and to win the Special Mention Award at the highest film award in India is just exhilarating. My director and co-actors made it so easy for me to act in this film."
Malayalam actress Parvathy won a Special Mention for
Take Off
, which also took the prize for Best Production Design.
Mayurakshi
, starring Prosenjit and Soumitra Chatterjee, won Best Bengali Film;
Ishu
won Best Assamese Film.
The National Awards ceremony will be held on May 3.
Here's the list of winners of the 65th National Film Awards:
Best Feature Film:
Village Rockstars
(Assamese)
Best Actress:
Sridevi for
MOM
Best Actor:
Ridhhi Sen for
Nagar Kirtan
Best Director:
Jayaraj for
Bhayanakam
Best Supporting Actress:
Divya Dutta for
Irada
Best Supporting Actor:
Fahad Fazil for
Thondimuthalum Driksakshiyum
Best Child Artiste:
Bhanita Das for
Village Rockstars
Best Popular Film:
Baahubali: The Conclusion
Dada Saheb Phalke Award:
Vinod Khanna
Best Action Direction:
Baahubali 2
Best Choreography:
Toilet: Ek Prem Katha
(song:
Gori Tu Latth Maar
)
Best Special Effects:
Baahubali: The Conclusion
Special Jury Award:
Nagar Kirtan
(Bengali)
Best Debut Film Of A Director:
Sinjar
(Jesari)
Best Short Film Fiction:
Maiyat
Best Film On Family Values:
Happy Birthday
Best Film for National Integration:
Dhappa
Best Educational Film:
The Girls We Were And The Women We Are
Best Anthropological Film:
Name Place Animal Thing
,
Slave Genesis
Best Cinematography:
Eye Test
,
Don
Best Adventure Film:
Ladakh Chale Rickshaw Waale
Best Editing:
Mrityubhoj
Best Music:
Sword Of Liberty
Best Narration:
The Lion Of Ladhakh
Best Book On Cinema:
Matamgi Manipur
Best Critic On Cinema Award:
Giridhar Jha, Special Mention to Sunil Mishra
Best Lyrics:
March 22
(song:
Mutthu Ratna
)
Best Music Director:
A R Rahman for
Kaatru Veliyidai
Best Background Score:
A R Rahman for
MOM
Best Make-Up Artiste:
Ram Razak for
Nagar Kirtan
Best Costume:
Govinda Mondal for
Nagar Kirtan
Best Production Design:
Santosh Rajan for
Take Off
Best Editing:
Village Rockstars
Best Sound Designer and Re-Recordist:
Samuel George, Justin A Jose for
Walking With The Film
Best On Location Sound Recordist:
Unrserved
Best Location Sound:
Mallika Das for
Village Rockstars
Best Original Screenplay:
Thondimuthalum Driksakshiyum
Best Adapted Screenplay:
Bhayankam
Best Playback Singer (Female):
Shasha Tirupati for
Vaan Varuvaan
) from
Kaatru Veliyidai
Best Playback Singer (Male):
Yesudas for
Poyi Maranja Kaalam
from
Viswasapoorvam Mansoor
Special Mention Awards:
Maurkhiya
(Marathi)
Hello Arsi
(Odiya)
Parvathy for
Take Off
(Malyalam)
Pankaj Tripathy for
Newton
Best Regional Films Awards:Best Hindi Film:
Newton
Best Bengali Film:
Mayurakshi
Best Ladakhi Film:
Walking With The Wind
Best Tullu Film:
Paddayi
Best Odiya Film:
Hello Arsi
Best Marathi Film:
Kaccha Nimbu
Best Malyalam Film:
Thondimuthalum Driksakshiuam
Best Kannada Film:
Hebbetu Ramakka
Best Jesari Film:
Sinjar
Best Assamese Film:
Ishu
Best Tamil Film:
To Let
Best Telugu Film:
Ghazi
Best Gujarati Film:
Dhh