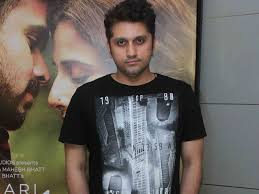 Highlights
Mohit: Shouldn't make a film because you want to capitalise on a title
Mohit: You can get the film to the audience but can't make them like it
Mohit Suri is gearing up for the release of his film Half Girlfriend
New Delhi:
Filmmaker Mohit Suri is gearing up for the release of his film Half Girlfriend, starring Arjun Kapoor and Shraddha Kapoor
. The 36-year-old director, whose 2013 film
Aashiqui 2
was a big success at the box-office, told news agency PTI that he won't make a sequel of the film without a right script. Earlier, a few reports suggested that Mohit Suri had roped in Alia Bhatt and Sidharth Malhotra for
Aashiqui 3
. However, dismissing the rumours, Mohit Suri told PTI: "It's a loved franchise but it should come back for the right reason, which is the script. I would've made
Aashiqui 2
even if it would've been called '
RJ ki ek love story
'. I wanted to make the film badly and tell the story."
"You shouldn't make a film because you want to capitalise on a title. You can get the film to the audience but you can't make them like it. I can lose everything I built with
Aashiqui 2
by making a bad
Aashiqui 3
," PTI quoted Mohit Suri as saying.
Mohit Suri's
Aashiqui 2
featured Aditya Roy Kapur and Shraddha Kapoor in lead roles.
Half Girlfriend
marks Mohit Suri's third collaboration with Shraddha Kapoor. They have previously worked together in films like
Aashiqui 2
and
Ek Villain
.
Half Girlfriend is based on Chetan Bhagat's novel of the same name
. Arjun Kapoor will be seen portraying the role of Madhav Jha, a man who hails from Bihar. Shraddha Kapoor will feature as Riya Somani, a Delhi-based student.
Half Girlfriend is scheduled to release in theatres on May 19.