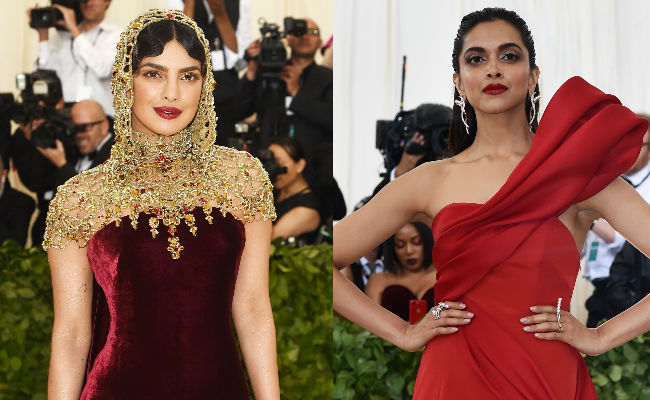 Highlights
The Internet thought Deepika's stylist missed the memo about the theme
Priyanka Chopra's look complemented the exhibit's theme
Deepika wore Prabal Gaurang while Priyanka was dressed in Ralph Lauren
New Delhi:
Priyanka Chopra and Deepika Padukone attended the 2018 Met Gala held in New York's Metropolitan Museum of Art on Monday evening and it seems that the Internet has picked a favourite. Fans-turned-fashion police gave Priyanka full points for staying true to the exhibit's theme - "Heavenly Bodies: Fashion and the Catholic Imagination" - while they booed Deepika Padukone for missing the point completely (much as she did last year). Priyanka, 35, walked the red carpet at in a Ralph Lauren velvet gown accessorised with a bejeweled hood while Deepika Padukone, 32, wore a red Prabal Gaurang gown with an extended thigh-high slit paired with diamond and pearl earrings and a matching ring.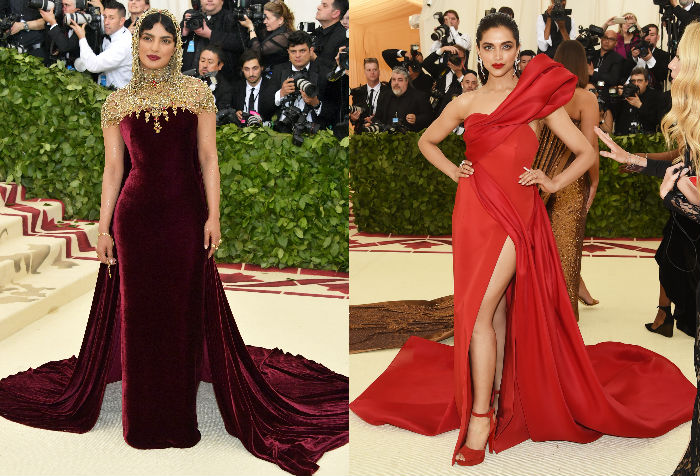 Plenty of tweets on Priyanka's fashion chutzpah were posted and a section of social media said that Priyanka and Ralph Lauren are "a match made in heaven. "Fans of the
Baywatch
star loved her latest International red carpet appearance and listed her among the best dressed celebs at the Met Gala 2018. Before the reactions, take a look at Priyanka Chopra on the red carpet.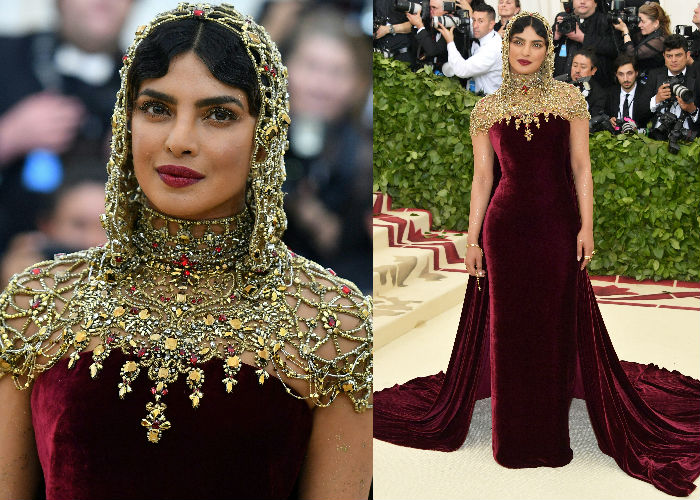 Here are all the compliments Priyanka scored with her walk on the Met Gala red carpet.
Q U E E N! @priyankachopra#MetGalapic.twitter.com/CxjeumWHqe

— samaher (@mo0o0dy) May 8, 2018
Cleopatra is shooooook rn @priyankachopra#queen#MetGala2018#priyankachopra#metgala

— RAKESH PC'sDGON (@PCsDRAG0N) May 8, 2018
My lord and savior @priyankachopra showing you basics how to be holy #MetGalapic.twitter.com/CDkJb1Cs7O

— STACY (@StacySuperDuper) May 7, 2018
Rihanna, SZA, Ariana, Lily, Priyanka, Chadwick, Janelle, Emilia, Sarah, Nicki, Zendaya, Blake, Solange, Darren, Cardi, and Christian made the #MetGala LOOKS for the YEAR!

Everyone else was mehhhhhh by comparison #MetGala2018pic.twitter.com/DKVos3btRv

— Tom Holland & SHINee Stan (@mattswaggster) May 8, 2018
Goodness gracious, @priyankachopra. Simply divine #MetGalapic.twitter.com/uAAKME62Kl

— The Kit (@TheKit) May 8, 2018
Of course, with a look this unusual, not everyone was impressed. A section of the Internet was not exhilarated about
Priyanka's "goddess-like" (as fans said) look.
Her poor date. Having to tell her how fabulous she looks.

— Paul jansents (@PaulJansents) May 8, 2018
Meanwhile, the Internet thought Deepika Padukone's stylist missed the memo about the Gala's theme. "...(the stylist) got the opportunity to dress
Deepika Padukone for Met Gala
and completely missed the theme... she looks amazing in this but really? Sigh," read one comment. One Instagram user said: "People disregard the theme every year." However, several fans defended the actress saying the dress code also included "Sunday Best," which was also opted by celebs such as Kim Kardashian and Amal Clooney. "The theme for dress was 'Sunday best.' Heavenly Bodies is the exhibit theme," clarified one Instagram user
how is ms. shaleena gonna have the opportunity to dress THE deepika padukone for #MetGala and completly miss the theme? ofc deepika's got a heavenly body and looks amazing in this but rlly??? sigh. i'm an idiot for having hope for this one hhhh pic.twitter.com/MLsGSJ85EW

— (@solonamjoon) May 7, 2018
Deepika Padukone is making a
habit of ignoring the Met Gala theme.
Last year, she showed up in pristine white Tommy Hilfiger with a diamante headband and while she looked like a million bucks - which she does this year too - Deepika caught some flak for not adhering to the 'avant-garde' theme. Priyanka Chopra did stick to the dress code. Here's a throwback of them: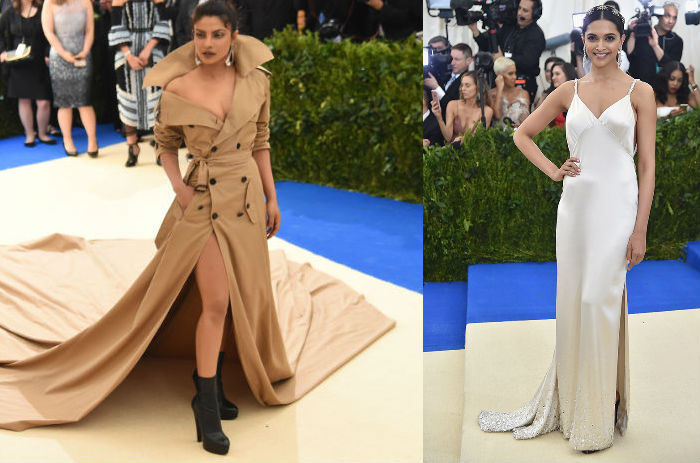 Priyanka Chopra is currently seen on television show
Quantico
and her next film is
Bharat
opposite Salman Khan. Deepika Padukone was last seen in "
Padmaavat
" and she hasn't announced her next project yet.
Hollywood celebrities such as Scarlett Johansson, Rihanna, Jennifer Lopez, Blake Lively, Salma Hayek and Ronney Mara also attended the Met Gala, which raises money for the Metropolitan Museum of Art's Costume Institute.