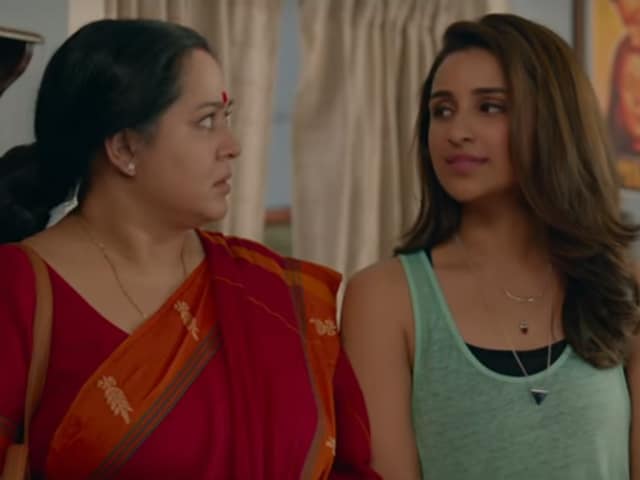 Highlights
Bindu scares Abhi's mother in the trailer
Abhi's mother is also not particularly fond of her
Meanwhile, Abhimanyu loves to dance and ma doesn't know
New Delhi:
Bechara
, Ayushmann Khurrana urf Abhimanyu Roy.
The new trailer of Parineeti Chopra's Meri Pyaari Bindu
is here and is guaranteed to make you roll on the floor laughing. Same drill, Parineeti stars at the mischievous, fun loving Bindu while Abhi is the
chhupa rustam
, a meek and naive Bengali college goer with secret wishes. Abhi also loves to dance like no one's watching only when actually no one's watching, especially his mother played by popular Bengali actress Aparajita Auddy. Rajatava Dutta features as Abhi's father, who enjoys the typical Bengali mother-son altercations between Abhi and his investigating maa.
Enters Bindu
. Chapter four of
Meri Pyaari Bindu
is titled
Bindu Vs Maa
and is rightfully so. The new trailer is quick documentation of how Abhi pushed limits to be part of Bindu's adventures. It is quite apparent that Abhi's mother is not particularly fond of the
padhosan
, and she has her reasons. Two rings on the landline is Bindu's SOS code for Abhi, which maa is fully aware of and is already irritated with.
"Do ring matlab emergency!" screams Bindu while "
Meri yeh do ring waali padosan, maa ke hit list mein kaafi upar thi
," says Abhi.
Watch
Meri Pyaari Bindu
Trailer #4:
Parineeti Chopra,
who features as one who harbours dreams to become a rockstar
one day in
Meri Pyaari Bindu
, told news agency IANS that her role is "special." "Chapter three sums up Bindu for me! She is this mad girl who just wants to be a rockstar and nothing else! Such a special role for me," IANS quoted Parineeti as saying.
Meanwhile, we have already seen Parineeti as Kolkata's Madonna and Ayushmann as Sambha to Parineeti's Gabbar in the previous trailers.
Directed by Akshay Roy,
Meri Pyaari Bindu
is scheduled to release on May 12.