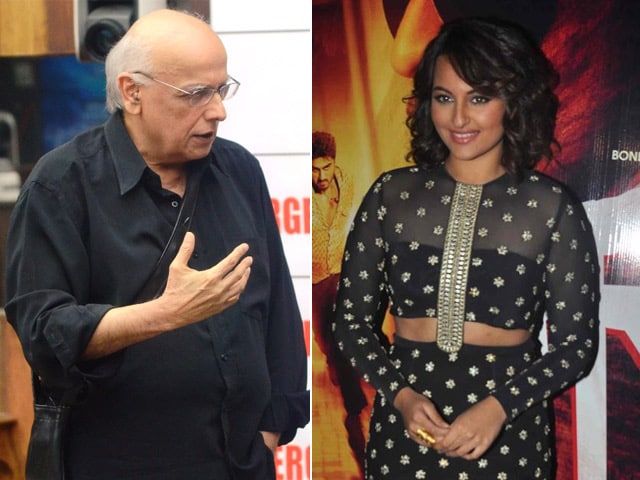 In a Twitter conversation on the sidelines of the turbulence around the FIR against the AIB Roast, actress Sonakshi Sinha responded to director Mahesh Bhatt's question about why she hadn't been named in the FIR when his daughter Alia had. Neither actress participated in the controversial Roast but were in the audience and were spotted laughing at the jokes.

In a series of tweets, Sonakshi reminded Mr Bhatt that a previous FIR against the Roast - filed in Pune, and not in Delhi or Kolkata as her tweet says - mentioned her and not Alia. In return, Mr Bhatt thanked the Tevar actress for her 'sane response' and 'amazing maturity.'

Earlier this month, an FIR was registered in Pune accusing the actors present at the Roast of obscene behavior in a public place. "We have registered an FIR. As per the complaint, it is also against Deepika Padukone and Sonakshi Sinha," DCP Sudhakar Pathare had said.

Sonakshi tweeted:

Dear Mr.@MaheshNBhatt, a couple of pointless FIR's have been filed before this (delhi and kol if im not mistaken, in which my name was (1/4)

- Sonakshi Sinha (@sonakshisinha) February 13, 2015
Mentioned and Alia's wasnt. I don't remember my father questioning them as to how or why so. I do agree with u however, if these FIR's (2/4)

- Sonakshi Sinha (@sonakshisinha) February 13, 2015
Are filed on 2-3 members of the audience, why not the other 3,998. Lets not give these ppl the attention they so desperately seek, (3/4)

- Sonakshi Sinha (@sonakshisinha) February 13, 2015
And as far as my memeory serves me, nobody EVER went to jail for laughing. (4/4)

- Sonakshi Sinha (@sonakshisinha) February 13, 2015
Mr Bhatt thanked Sonakshi soon after:

@sonakshisinha TRUE! I could not agree with you more. Thank you for your SANE response. Amazed by your maturity at this tender age. Love

- Mahesh Bhatt (@MaheshNBhatt) February 13, 2015
Mr Bhatt also wrote on Twitter that 'courts are being clogged with silly cases' and described the outcry around the Roast as 'manufactured drama.'

The FIR, filed after a court order, books 14 people for criminal conspiracy, a non-bailable offence. Those named in the FIR include organisors of the Roast, roastees Ranveer Singh and Arjun Kapoor, roastmaster Karan Johar, audience members Deepika Padukone and Alia Bhatt, comedy collective AIB, comic Aditi Mittal and film critic Rajeev Masand.

The Roast was filmed in Mumbai last December with a paying audience of 4,000. It was then edited and released in three parts on AIB's YouTube channel. A week later, AIB took the Roast offline after the Maharashtra government said it would investigate the show for alleged obscenity.

The expletive-laced Roast has also been criticized by actor Aamir Khan who said "I felt it was a very violent event. Violence is not only physical, it can be verbal and emotional too. When you insult someone, you perpetuate violence." But he clarified that there must be no witch-hunt against those involved in the Roast if no law had been broken.


Yesterday, an open letter from a blogger reminded Aamir Khan that he had defended his films
PK
and
Delhi Belly
against accusations of offensiveness.
Many other members of the film fraternity have spoken out in favour of the Roast, including Anushka Sharma who was made the butt of some jokes on the show.