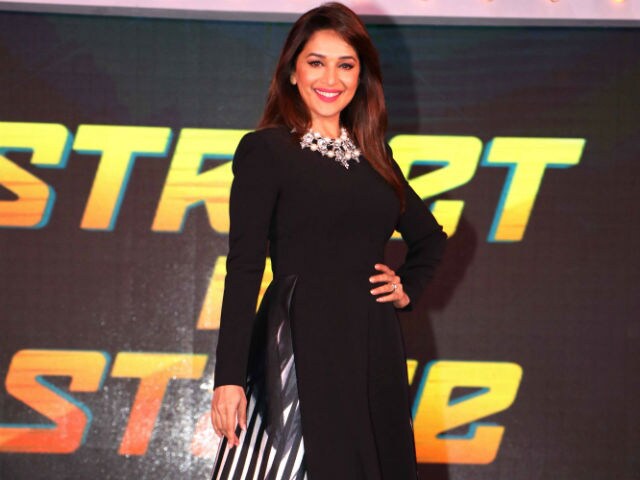 Highlights
Madhuri Dixit will soon be seen judging a dance-based reality show.
Madhuri said that acting is her 'first love.'
Madhuri said that Shah Rukh's Fan is a 'lovely' movie.
Mumbai:
Actress Madhuri Dixit said that she is yet to bag the right script to make a comeback.
The 48-year-old actress, who was last seen in 2014's
Dedh IshqiyaGulaab Gang
, said that she has not bid adieu to acting and is judging reality shows more because dance is her passion.
"Acting is my first love. As soon as something that I like comes to my table, I will surely say yes to that film offer. Right now, I am busy with dance shows as dance is my passion," said Madhuri. Madhuri does not miss facing the camera because her family has always been her priority.
"Everybody has their own dreams. Having a family and children were a big part of my dream. When I was in Denver, I was living my dream. My priorities are very straight. I know what is important for me. And whenever I do anything, I plan very well," added Madhuri.
But Madhuri keeps a tab on the work of her Bollywood contemporaries and her co-stars. She recently watched
Fan
and was floored by Shah Rukh Khan's performance.
"I saw
Fan
. It was a lovely movie. Shah Rukh Khan as a fan was excellent. It was a lovely performance and his role of a superstar was also a very balanced and controlled act. They have not tried to show him that he is nice. He has his own fragility, ego and grey areas," said Madhuri.(Also Read:
Shah Rukh Khan's Best Roles: 10 Times he Made a Fan of Us
)
Madhuri said that she is lucky that she has never encountered such an obsessive admirer in her career.
"We always have people around us. It's amazing that they like you when they don't even know you. They just see you onscreen, have their own perceptions and start liking you," said Madhuri.
Madhuri, along with choreographers Terrence Lewis and Bosco Martis, will be judging the dance-based reality show
So You Think You Can Dance - Ab India Ki Baari
.
"The concept of the show is very different. We have divided them into two groups -- stage and street. They are dancers. They are passionate about what they do. What is difficult is that they have their stories, own lives and own struggles and how some of them have been disowned by their families for taking up dance as their career option," said Madhuri.
Madhuri, who is involved with dance since she was three, considers herself lucky to have supportive parents and now husband.
"My parents were very supportive and so were my in-laws and husband. My husband and I are like a unit, who work together. So, if I am going to be absent, he takes over and when he is busy, I do it. I wish everyone could get such a family," said Madhuri.