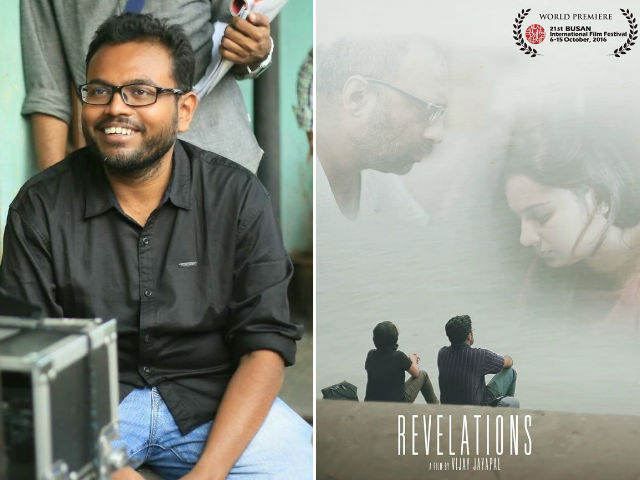 Highlights
Revelations is an indie film with 70 per cent dialogues in Tamil
Chetan and Lakshmi Priyaa Chandramouli star in Revelations
Jayapal will release the film commercially if liked at film festivals
Chennai:
Vijay Jayapal directed Tamil-English drama
Revelations
, whose world premiere at Busan International Film Festival is next month. The director says such an honour is very special and the journey of his film has just begun. The festival is scheduled to take place between October 6-15.
"It's a very special moment. Out of the 11 Indian films, ours is the sole Tamil film to have been selected. I had sent
Revelations
to several film festivals across the globe and I believe its journey has just begun with Busan honour," Jayapal told IANS.
To be screened under the category of A Window on Asian Cinema,
Revelation
stars popular television actor Chetan and Lakshmi Priyaa Chandramouli, apart from two newcomers.
"It's an indie film; a drama about four people set in Kolkata. The film features 70 per cent dialogues in Tamil and the rest in English. When I set out to make the film, the intention was to only send it to film festivals," he said.
"However, the Busan honour has changed my perception and if it goes to other fests too, I might think of releasing it commercially," he said.
Over the past few years, Tamil films such as
Kaaka Muttai
and
Kutrame Thandanai
made some noise at several film festivals across the globe.
Admitting it as a growing trend, Jayapal said the sole purpose of sending films to film festival shouldn't be to create buzz.
"The general perception is that film festivals are only for art-house films. What many filmmakers don't realise is that it's a big market to find potential buyers. I'm travelling to Busan next month and I hope to find a buyer for my film," he said.
Revelations
is the first feature film directed by Jayapal, who left his corporate career and to become filmmaker. He has also made four short films.
(Except for the headline, this story has not been edited by NDTV staff and is published from a syndicated feed.)