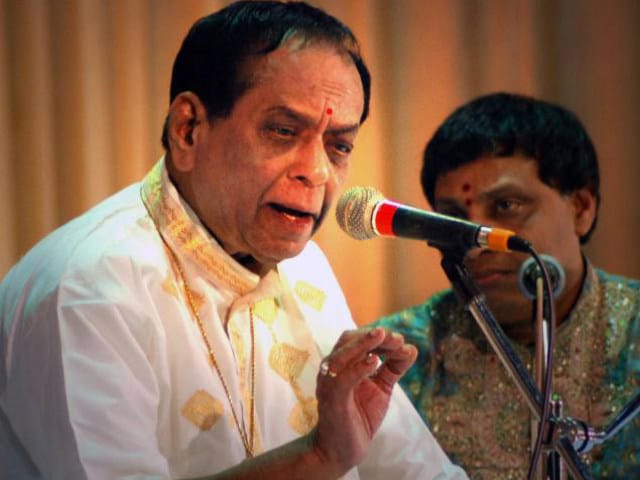 Highlights
Balamuralikrishna composed over 400 songs in Telugu, Sanskrit, Kannada
Balamuralikrishna was born on July 6, 1930 in Sankaraguptam
Balamuralikrishna is survived by his wife, three sons and three daughters
New Delhi:
Legendary Carnatic vocalist M Balamuralikrishna died at his home in Chennai on Tuesday at around 3.30pm. He was 86. Balamuralikrishna was six when he began singing and has performed at 25,000 odd concerts worldwide. He has sung with other musical legends such as Pandit Bhimsen Joshi, Pandit Hariprasad Chaurasia and Kishori Amonkar. He was noted for popularizing devotional Carnatic songs composed by the saints Sri Bhadrachala Ramadasu and Sri Annamacharya. Balamuralikrishna was awarded the Padma Vibhushan, India's second-highest civilian honour, and also made Chevalier or Knight of the Order of Arts and Letters by France.
Renowned Carnatic vocalist and Magsaysay Award Winner T M Krishna said: "Dr Balamuralikrishna traversed the whole world of music, so many genres and languages. He's not just a Carnatic musician. He made his own paths and rules. He was controversial in that sense, when no one would have dared thirty years ago".
Balamuralikrishna was born on July 6, 1930 in Sankaraguptam, part of Andhra Pradesh's East Godavari District. Apart from being a vocalist, he also played the viola,
mridangam
and
kanjira
. He was eight when he sang at his first proper concert.
Balamuralikrishna composed over 400 songs in Telugu, Sanskrit, Kannada and Tamil. His musical style was known for innovation and experimentation. He created several
raaga
s, like Lavangi, Kahathi, Sidhdhi, Ganapathy and Sarva Sri. He also invented a new system of
tala
s, or beats.
Balamuralikrishna also sang in French and Bengali, recording his own versions of Rabindranath Tagore's compositions. He was also interested in music therapy.
Balamuralikrishna scored some films, winning two National Awards - Best Male Playback Singer in 1976 for the song
Hamsageethe
, and in 1987, he was named Best Music Director for
Madhavacharya
. Balamuralikrishna also acted in films, after making his debut in 1967's
Bhakta Prahlada
, playing the sage Narada.
Apart from the Padma Vibhushan, he also received the Padma Bhushan and Padma Shri.
Balamuralikrishna is survived by his wife, three sons and three daughters.