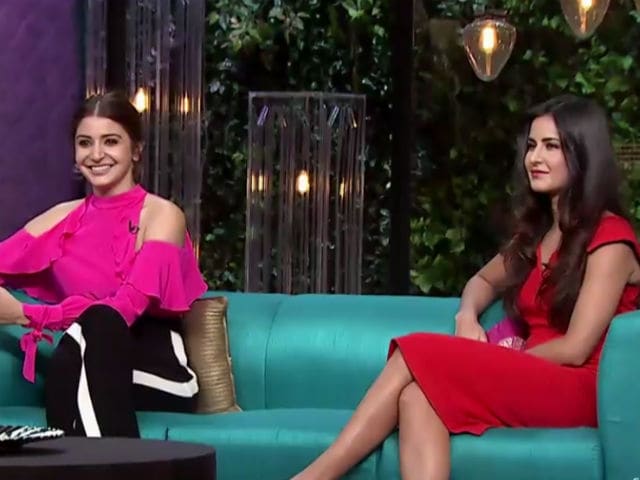 Highlights
Anushka and Katrina hardly gave Karan a chance to speak
Anushka and Katrina co-starred in Jab Tak Hai Jaan
Arjun Kapoor also joined Anushka and Katrina
New Delhi:
The eighth episode of
Koffee With Karan
began with Karan Johar talking about how he was a bit nervous about hosting the show tonight because of his guests, as both are a very guarded about their personal life and hence he feared that he won't be able to give much gossip. Later, he welcomed his guests
Anushka Sharma and Katrina Kaif
. The conversation started with Karan talking about how much time it took him to convince Anushka to be on the show and then he spoke to Katrina on what made her stay away from the couch for two seasons.
From the very beginning, it seemed that
Anushka and Katrina had vouched
that they won't let Karan speak on his show. When asked about why she didn't come for two seasons on
Koffee With Karan
, she replied that she hated the fact that she had to rate the actors and also because people discuss the show after it get aired.
The Gospel Truth
Katrina said "After every episode, whoever discusses
Koffee With Karan
acts like the gospel truth is spoken on the show. But, I can see the cameras people are not saying the utmost truth."
Katrina, The Curator
Katrina then reviewed the show and Karan as a host. She suggested some changes that Karan should make.
At the end, Karan asked Katrina to just calm down and said, "If your deep-rooted desire to judge
Koffee With Karan
is over, shall we continue with the show?"
Anushka And Katrina's Equation
The
Jab Tak Hai Jaan
co-stars revealed that both are quite similar to each other when it comes to being anti-social and that's why they get along with each other. They also added that both of them do not like to talk about people and share the same nature.
Dating Katrina
Karan asked Katrina about how does it feel to know that many people want to date her. She instantly replied, "If everybody wants to date me, it feels lovely. But I do not see any of these people."
Whether Katrina Should Start Dating Somebody Again
"If she wants to," quickly answered Anushka.
Bollywood's Number game
Anushka said that she doesn't believe in the number game and thinks it is derogatory and wants to be remembered for her work and films. However, Katrina on a lighter note said that she fully believes in it as long as she is No 1.
Why This Grudge Against Varun Dhawan, Katrina?
When Karan asked her the reasons, Katrina said, "It is because Varun killed me on your show."
I Hate Katrina Kaif Club
Katrina then explained why "I Hate Katrina Kaif Club" was started by Arjun Kapoor and Varun Dhawan. She said that Arjun, Varun, Salman and she were once walking on bandstand and Varun was 'checking her out'. He got into a little trouble with Salman over it and hence, the club was started. But she also added, "I get why Varun started it, but I don't know why Arjun joined."
Forcing Brotherhood on Akshay Kumar and Arjun Kapoor
Katrina revealed how she forced brotherhood on Akshay Kumar while shooting for
Sheila Ki Jawani
song. She said, "Since it was
rakshabandhan
, I asked If I could tie him
rakhi
and he said, 'You want a slap?' I met Arjun Kapoor on the same day and said to him you're going to be my
rakhi
brother, but he ran away."
When Anushka Was Angry and Flattered At the same time
When the discussion about Arjun Kapoor was happening, Karan asked Anushka whether she knew that the actor was in love with her previously. On which, Anushka said. "You just talk anything on your show."
Karan also revealed that even he had a huge crush on her while filming
Ae Dil Hai Mushkil
, to which she said. "I am really feel flattered."
What Turns Off Anushka Sharma
"Karan I know you are all for it, but men who remove their shirts for no reason is so off-putting yaa," said Anushka.
When Arjun Made A Koffee Comeback
The actresses were totally against Arjun and asked him to just go away as soon as he said, "I'm back."
Kiss With Arjun
Moving on, Karan introduced a segment 'Kiss With Arjun', where Anushka and Katrina had to kiss Arjun on some questions posed to them. Katrina gave the maximum number of kisses to Arjun.
When Karan Johar Had A Meltdown For The First Time
During the 'Kiss With Arjun' round, Karan asked both the ladies that whether they would choose stability over passion in a relationship. However, Anushka who was in her own dreamland failed to understand the question even after Arjun, Katrina and Karan's repeated attempts. Every time she said, "What does that mean or say it again." Lastly Karan said, "Anushka, are you mad. I don't want to explain. I am having a meltdown on my show for the first time." He also asked Katrina to shut up and said, "You are equally mad."
The Rapid Fire Round
The funniest part of the round was when Katrina gave up after she was asked to name a dish that came to her mind when she hears Salman's name. "It's tricky," was her reply. But Anushka heard tricky as '
chiky
' and burst into laughter. Karan further tried to help Katrina and said, "Salman is like a biryani." After that, Katrina accepted defeat and said, "See you next time."
Also, over dating Varun Dhawan, Anushka said, "I think he's already in a relationship." An 'awkward' silence then followed.
However, both the actresses lost the round and the hamper was given to Arjun Kapoor. Katrina had earlier said that the hamper should be given to charity, pointing on Arjun Kapoor (for coming on the show).
Koffee Quiz
Arjun, who refused to bid bye attended the coffee round too which was won by Anushka Sharma.
At the end, Karan named Arjun Kapoor, the 'Official Mascot' of
Koffee With Karan
and in for Anushka and Katrina, he said he was exceptionally exhausted, as he had way too much fun.
Next in queue are Shahid Kapoor and Mira Rajput
. The episode will be aired on January 1. This would be the couple's debut appearance on television.