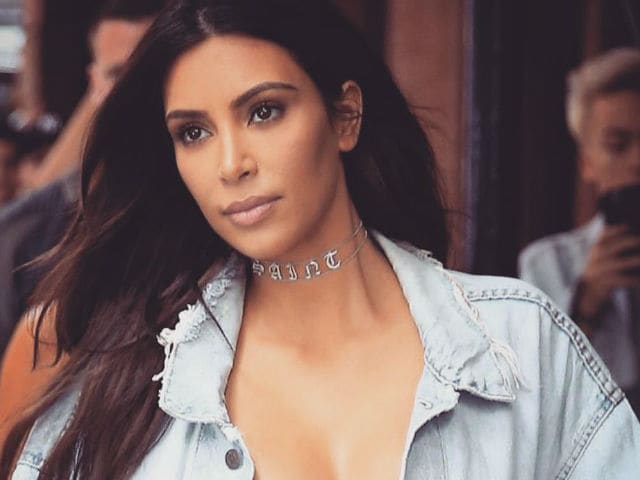 Highlights
Vitalii Sediuk wanted to kiss Kim Kardashian but her bodyguard intervened
This was his second attack on Kim, who now wants a restraining order
Kim's bodyguard Pascal Duvier shared a video of the incident
Los Angeles:
Reality TV star Kim Kardashian West reportedly wants to get a restraining order against Vitalii Sediuk, the prankster who has allegedly attacked her twice in two years, reported
TMZ
. The Ukrainian former TV presenter tried to kiss the 35-year-old star at the Paris Fashion Week, however his attempt was marred by Kim's bodyguard.
Vitalii tried to kiss Kim but her security team managed to wrestle him to the ground just beforehand. Sources close to the Kardashians said that Kim is planning to file a police report over the incident, which occurred as she was attending the Balmain fashion show. She's calling in her lawyers and wants a restraining order against Vitalii, who also targeted her at Paris Fashion Week in 2014.
After the incident, Kim praised her bodyguard Pascal Duvier and tweeted:
My security @PascalDuvier is a G

— Kim Kardashian West (@KimKardashian) September 28, 2016
Mr Duvier shared what happened at the show:
ReAction. #Action#Reaction#ReAction
.
VideoCredit: guess who?? pic.twitter.com/VyFDOjjEez

— Pascal (@PascalDuvier) September 28, 2016
Here's what Vitalii posted on Instagram after the incident:
Vitalii
also 'manhandled' model Gigi Hadid
at Milan Fashion Week last week. Gigi was walking towards a waiting car with her sister Bella Hadid when Vitalii grabbed and lifted her. The Victoria's Secret model fought him off and chased him and also tweeted: "I'm a human being and I have every right to defend myself. How dare that idiot think he has the right to manhandle a complete stranger? He ran quickly though."
Vitalii has targeted Hollywood stars Brad Pitt and Leonardo DiCaprio in the past.