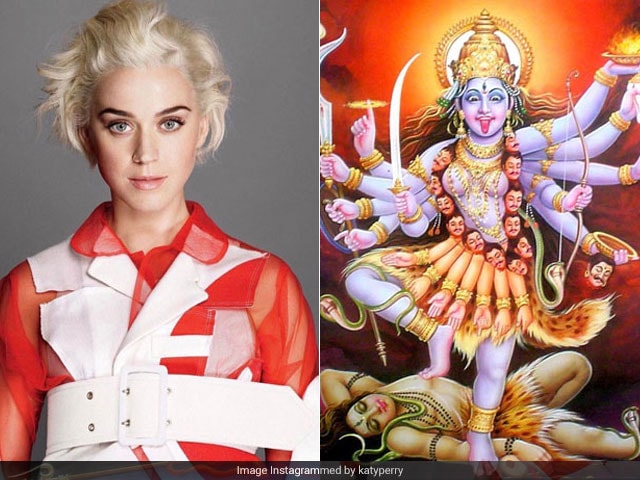 Highlights
"Katy Perry is just so messed up," read a tweet
She captioned the picture of Goddess Kali "current mood"
"She didn't say anything negative," wrote an Instagram follower
New Delhi:
Pop star Katy Perry
started a debate on her Instagram feed after she shared a picture of Goddess Kali, captioned "current mood." The picture shared by the
Roar
singer, currently has over 213,000 likes but is the reason Katy Perry is being subjected to trolling on Twitter and Instagram by those who deem it as offensive. "Katy Perry is just so messed up. She is clearly treating our gods and goddesses as memes. And she is conveying the same to her fans," read a tweet while another dragged in the reference of Hollywood in the light of Katy Perry's post, saying: "Step one to be trendy in Hollywood; appropriate another culture into a shareable Instagram meme."
Instagram and Twitter appear to be divided over
Katy Perry
's Instagram post, with many asking for her intention to be not misinterpreted.
@katyperry I feel so proud that Katy knows about my religion!

— Haren nayar (@Harennayar) April 19, 2017
Step 1 to be trendy in Hollywood; appropriate another culture into a shareable instagram meme #relatable@katyperrypic.twitter.com/LPC5mW9z03

— Avisha Gopal (@AvishaGopal) April 19, 2017
@katyperrypic.twitter.com/pNnljUKsH4

— Jatin Sati (@jsati83) April 19, 2017
Must Read! @katyperry Katycats Are With You! People just need a reason to drag! pic.twitter.com/1yT4KdRhre

— Kanishk (@KanishkMalikk) April 19, 2017
Meanwhile, here's a glimpse of the ongoing debate in the comments thread of Katy Perry's Instagram post:
"You know what!? If I posted that on my wall I would be roasted like hell she's getting away with this stuff just because she's a celebrity. If a normal person were to do that it would rain fire in their comment section," read an angry post while another user said: "She has just put the picture. That's it. She didn't say anything negative to offend Hindu sentiments, so all of you please stop sulking and go easy."
Meanwhile, here's what Katy Perry posted:
Meanwhile, Katy Perry has not responded to the trolls yet. Her post featuring a picture of goddess Kali arrived before she recently hosted and attended an Easter party for her brand, called Katy Perry Collections. She's also shared several pretty pictures from inside the party:
Katy Perry is best known
for her songs like
Dark Horse
,
California Girls
Unconditionally and
Firework
. In Hollywood, she has appeared in animated film
Zoolander 2
and voiced the character of Smurfette in
The Smurfs
series of films.