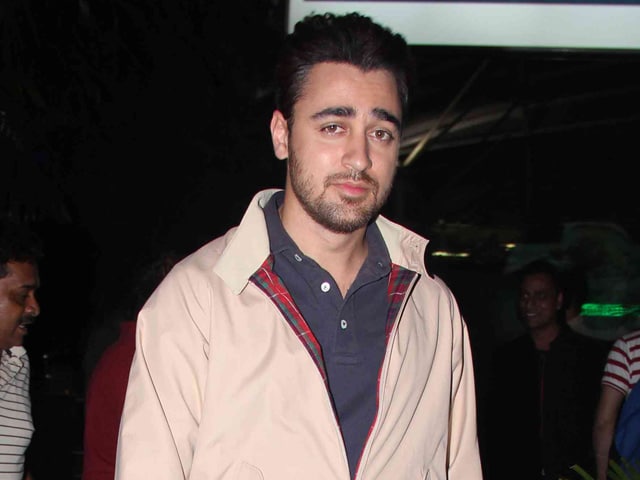 New Delhi:
Actor Imran Khan said that he has "never been drawn" towards "heroic" roles as he feels that they lack "gravitas" and "emotional resonance".
"I've never been drawn to heroic characters. Such characters don't appeal to me and I don't find them interesting," Imran, whose latest film
Katti Batti
released on September 18. (
Movie Review: Katti Batti
)
"I always feel that your film has to be grounded in reality for it to be relatable and for letting people to invest in it because if it's entirely a fairytale world, then at some point, it lacks gravitas. It lacks an emotional resonance," the 32-year-old added.
Imran feels that film scripts should be grounded in reality and to grab viewers' emotions, "you have to make them laugh from the gut".
He said: "Whatever genre of film you are making, it has to be rooted in reality. You have to feel like this could happen to me in reality. When you watch Bollywood's over-the-top
masala
films, nobody ever feels that I can go through the same thing. I'm always drawn towards films where I want people to watch my film and feel like this could be their story." (Also Read:
Why Imran Khan Didn't Like Katti Batti Script At First
)
In
Katti Batti
, Imran stars with Kangana Ranaut in a story of a live-in relationship.
The actor, who is the nephew of Bollywood superstar Aamir Khan, said that he never pays attention to those who compare him with the
PK
star.
Of comparisons with Aamir, Imran said: "I don't pay attention to those people. I don't get annoyed with them because if anything that anyone will say will help me and will contribute in some way, then I'm happy to listen. Otherwise, I'm not interested. I've never really discussed my work with Aamir. In my family, we value honesty and excellence. We hold each other to a very high standard. It's not about being from a filmy family, it's being from my family. My family expects a lot of each other."