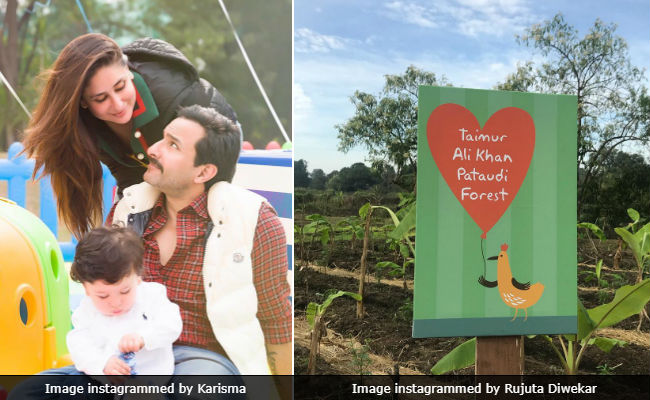 Highlights
Taimur celebrated his first birthday with family in Pataudi
Kareenas nutritionist gave Taimur a forest as birthday gift
"A little boy can never have enough of birds, bees and butterflies"
New Delhi:
Kareena Kapoor's nutritionist Rujuta Diwekar gave possibly the best present to Taimur on his first birthday. It is a forest in Sonave, a village on the outskirts of Mumbai.
Taimur celebrated his first birthday
at his father Saif Ali Khan's ancestral home in Pataudi surrounded by his family when Rujuta Diwekar gave a glimpse of her birthday present for the little Nawab on Instagram. "A little boy can never have enough of birds, bees and butterflies and so we have put together a small forest as a birthday gift for the little big boy, Taimur, in Sonave," she wrote in an Instagram post.
Rujuta Diwekar also said that the said forest "thrives on intercropping" and "I hope that as he grows he too will thrive in and celebrate a diverse society. A society where people live together through and due to their distinctions," she said.
Here are the details of Taimur Ali Khan Pataudi Forest in Sonave:
Miles away in Pataudi, Taimur celebrated his birthday with his parents, aunt Karisma Kapoor, grandparents Babita and Randhir Kapoor, and cousins Kiaan and Samiera. Karisma shared some pictures from the day birthday party on Instagram, which are simply fabulous:
Here's another picture shared by Kareena Kapoor's fan club, which shows Taimur with bits of cake pasted on his cute chubby face:
Saif Ali Khan and Kareena Kapoor married in 2012 and Taimur is their first child together. Saif Ali Khan was married to actress Amrita Singh and together they are parents to Sara and Ibrahim Ali Khan.