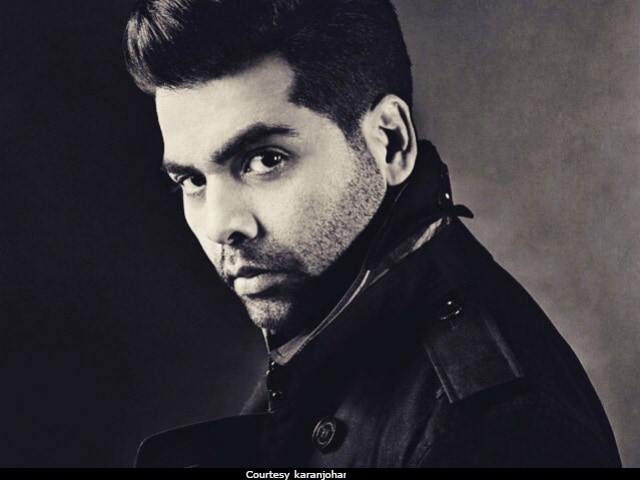 Highlights
"Everyone has a theory about parenting," says Karan Johar
"If you've handled stars, your own babies are a cakewalk," he adds
"Movie stars are the biggest babies ever," Karan says
New Delhi:
Karan Johar has only been a dad for a few months but he's coping very well with the 'pooping and the burping,' thank you for asking. The 44-year-old filmmaker is a
single father to twins Roohi and Yash
, who were born via surrogacy earlier this year and
were brought home in March
. Speaking to NDTV, Mr Johar said that he's 'found the pressures of parenting overrated' so far, no matter what his many, many married friends with kids say. "You've been single for so long and you have so many married friends who have only grumbled about their times when they have been married or they have produced children and the problems they have faced before six months... everyone has a theory about parenting, everyone had a problem they went through when they were parenting, everyone has maternity blues, everyone has all kinds of issues they have talked about. Honestly, I've found all the pressures of parenting completely overrated, you know, because the pressures of bliss zone," Karan Johar said.
He knows the hard part is up next but for now, burping his babies holds no terrors for him. "I don't mean the parenting to follow because that is the most important part, when they are impressionable and you are nurturing them into healthy adults. But I'm talking about the six months when they are pooping, burping, the sleeping, the eating, the repeating all of that. I find has been quite easy because I've heard such drastic stories. I wasn't doing the feeding. I was doing a lot of the burping, I do a lot of the physical feeding - that's not as difficult - and my babies sleep a lot," Mr Johar told NDTV.
The reason he's cool with burping duty is because he's handled a lot of starry tantrums. "Burping is easier. When you've dealt with movie stars, how can you have a problem handling your children? I mean, they are the biggest babies ever. Movie stars are babies. So if you've handled them, your own babies are a cakewalk," Karan Johar, who's directed some of Bollywood's top stars, said in his typically tongue-in-cheek style.
Roohi and Yash Johar spend up to 18 hours
a day asleep (some parents out there might be jealous) and Mr Johar spends his time staring. "It's the easiest thing in the world to stare at two pieces of beauty," he said.
Of what he describes as a 'delayed decision' to become a parent, Mr Johar said, "I felt I needed to be emotionally prepared before I take this big step in my life and I just felt I wasn't till the time I had decided. When I had decided, I knew the process would take nearly two years but I knew that moment when I was ready, I just knew it, I felt it calling out to me. I had been a nurturing adult, in any case. I nurtured so many young careers, so I felt there was an inherent parent hidden in me that had to find a surface and when I took that decision, it was beautiful. When it happened, it was even more beautiful. It seems so picture postcard perfect right now, that it's scary."
The 'young careers' he talks of having 'nurtured' include those of actors
Alia Bhatt, Varun Dhawan
and Sidharth Malhotra, all three of whom debuted in Karan Johar's film
Student Of The Year
. Mr Johar is also handling the launches of Jhanvi Kapoor, daughter of Sridevi and Boney Kapoor, and Sara Ali Khan, daughter of Amrita Singh and Saif Ali Khan.
Karan Johar is the director of films such as
Kuch Kuch Hota Hai
,
Kabhi Khushi Kabhie Gham
and
My Name Is Khan
. He last made
Ae Dil Hai Mushkil
with Ranbir Kapoor, Anushka Sharma and Aishwarya Rai Bachchan, and runs the mega banner Dharma Productions which has a big release coming up this week in the Hindi version of
Baahubali: The Conclusion
.