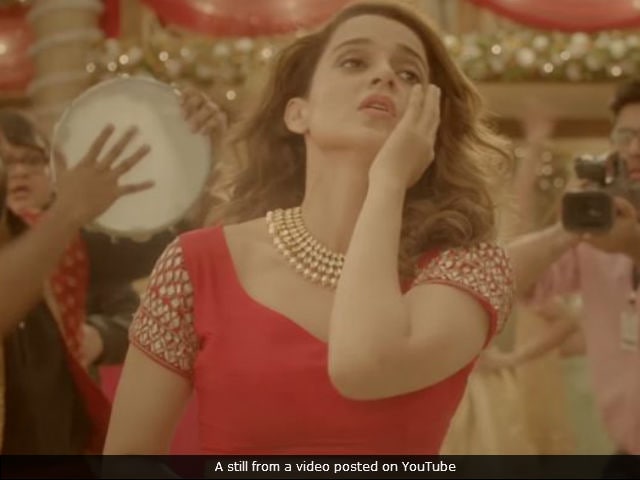 Highlights
Kangana Ranaut's AIB song went viral on Twitter
The song takes very pointed aim at Shah Rukh Khan
Kangana's Simran releases this Friday
New Delhi:
Actress Kangana Ranaut's
satirical collaboration with comedy collective AIB
has gone crazy viral. The Bollywood Diva, which sends up sexism, nepotism and everything else that's wrong with the film fraternity, was watched over 1.5 million times in less than 24 hours on YouTube and is being hotly discussed on Twitter. No surprises there - what has surprised the Internet is the clubbing of Shah Rukh Khan with Kangana's bugbears Hrithik Roshan and Karan Johar. Not only does The Bollywood Diva ridicule actors launched by fathers and the 'victim card' - references to Hrithik and KJo - it also takes very pointed aim at SRK, with whom Kangana has never worked but is known to be a close friend and colleague of Karan Johar.
Nor are the jibes at Shah Rukh Khan disguised as anything but. The 'actor' in the video makes a grand entry in a scene parodying the one in
Kabhi Khushi Kabhie Gham
in which SRK arrives to a blockbuster welcome from his mother, played by Jaya Bachchan. Later in the song, a line skewers an actor who places his female co-stars ahead of himself in film credits - this actor goes unnamed but SRK, who famously ensures actresses are higher billed, is plainly the one intended.
This has not gone down well at all with Shah Rukh Khan's fans on social media. What has SRK ever done to you, Kangana and AIB? Twitter wants to know.
Kangana Nautankibaaz Ranaut.Hope SRK never works with her..

— Arun (@Arun_SRKian) September 12, 2017
I agree with all of you NO Kangana w/ SRK but to be fair AIB wrote the song and uncharacteristically she's not taking credit.AIB loves SRK

— Molly Pollak (@mpollak711) September 12, 2017
Kangana ka Aib video dekha?
Video dekho saaf pata chalega SRK ka clear mazak udaya hai kamini ne.i was supporting her but she is drama queen

— SRK & Dhoni Fan (@dhoni_srk) September 12, 2017
Stay far away #Kangana from #SRK. Strict Warning from SRKians. pic.twitter.com/L8Q4UiUK67

— SRKian (@ItsRakesh_) September 13, 2017
However, not everyone agrees that Kangana is just scoring points off Shah Rukh Khan.
All.m saying is kangana ain't dragging SRK s name for publicity. She already has it. She's national award winner .n currently the best.

— Ronica (@VeroLocks) September 12, 2017
And, in fact, most tweets think she 'nailed' it and that Bollywood's big daddies had better run for cover.
"Coz I have vagina re" don't miss this ballsy video - https://t.co/F2GOvDwH6c#KanganaRanaut#Simran#AIB

— Kaushik LM (@LMKMovieManiac) September 12, 2017
#AIB Nailed it.. pic.twitter.com/5N2OcPovgj

— Ziii (@Zubbiicasm) September 12, 2017
#KanganaRanaut has roasted Bollywood. We need fearless actresses like u who can burn down egos of those who think nepotism ROCKS #AIB

— shilpa sharma (@shilpa1020) September 13, 2017
https://t.co/AFOkx4LarN woooow! Concussion ..is wat definately some of #Bollywood biggies r gonna hv wid dis 1... #AIB#KanganaRanaut

— Tomy Pereira (@tomygilbert2000) September 12, 2017
There was one tweet that stood out in the conversation - Karan Johar posted a message addressed to "Dear talent" and while it could just have been another in his ongoing "dear so-and-so" series, Twitter thinks the timing was suspect:
Dear talent ...I wish you would stay away from overconfidence and delusion....they are constantly conspiring against you...don't you see it?

— Karan Johar (@karanjohar) September 12, 2017
Delusions of grandeur or not, the viralworthiness of Kangana + AIB is slaying online.
On the off chance you haven't watched Kangana Ranaut sing
"Coz I have vagina rey"
in
The Bollywood Diva
(and even if you have), here it is:
Kangana Ranaut is currently promoting her new film
Simran
which, as some have noted, has little do with the string of headlines she's been the subject of in the last two weeks. In separate interviews given to TV shows in New Delhi, Kangana has said things like "Hrithik and his father Rakesh Roshan have made fools of themselves" and that she asked
Aditya Pancholi's wife Zarina Wahab
to "save" her from him. The backstory here is extensive - in short, Kangana dated Mr Pancholi for four years a when she was starting out in Bollywood a decade ago and claims a later romance with Hrithik as well. Her enmity with Karan Johar began only recently, after she called him the "flag-bearer of nepotism" on his show
Koffee With Karan
earlier this year.
Simran
, which is fast being forgotten in the blizzard of Kangana quotes, releases this Friday.