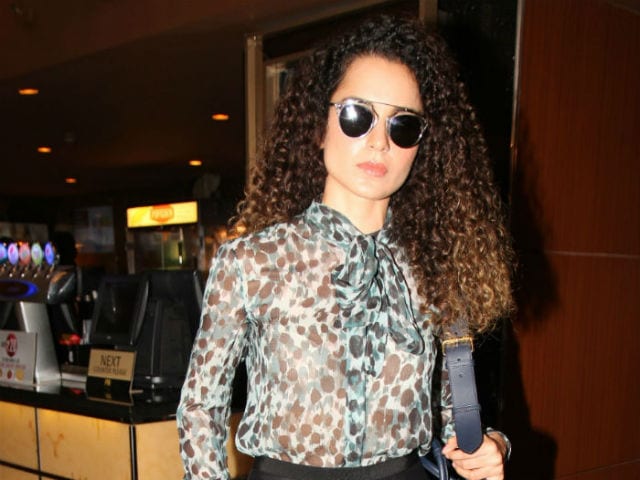 New Delhi:
It's been a mixed year for actress Kangana Ranaut. Uneasy was the head which wore the crown, her swag and double act in
Tanu Weds Manu Returns
set the cash registers tinkling. As she scooped the National Award for Best Actress for
Queen
, it seemed arch rival Deepika Padukone managed to beat her to the top spot.
So, it was indeed
Katti Batti
with her peers and the box office, as her film with Imran Khan sank without a whimper. But the actress continues cracking the whip, quite literally.
"Really. When it comes to my characters, I get very fiery characters, those of strong women with strong content and message and I quite like that," Kangana told NDTV.
So was her role in Vishal Bhardwaj's
Rangoon
inspired by the fiery Nadia from
Hunterwali
?
"No. It's not about a person or a biopic. It isn't based on a real life character. But yes, she is a star from the Thirties. I think, contrary to everyone's perception, in those days, people were a lot more open to women doing action scenes and their own stunts," said Kangana.
The
Queen
actress blamed the social media for the current wave of intolerance. Kangana is not on any social networking site.
"What is unhealthy is the fact that people go into an attack mode, I mean they make political comments. Even when I say harmless things, there are a string of reactions from every side. I can understand that it is your opinion about my opinion. But what I cannot understand is that you cannot tell me what I should be saying. I am not a spokesperson for all good things. Do you see me carrying the gospel of truth? I am just a person. Why am I not allowed my flaws? As a person, we all have things to learn. But why would you crucify a person just because you are not in agreement with my views," said Kangana.
"People lack humour and I have stopped cracking jokes because people don't get it," added Kangana.
For 2016, the actress said that she has a long wish list to work with several directors. She had always wanted to work with Vishal Bhardwaj, which has come true. She also wants to work with Imtiaz Ali, Rajkumar Hirani and Anurag Basu.
"I wouldn't want to stop my growth as a person and would like to play older and significant characters as I keep getting more grey hair," said Kangana.
As far as the younger lot is concerned, Varun Dhawan and Alia Bhatt get Kangana's vote of confidence.(Also Read:
Kangana Ranaut, Kareena Kapoor Are 'Mighty Impressed' With This Actor
)